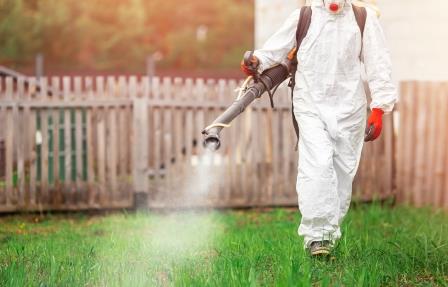 With mosquito season coming right around the corner, you might start noticing yard signs near shopping malls, at intersections, and on the side of the road advertising mosquito misters. Particularly bold mosquito misting professionals may come knocking on your door, handing you a flier with their contact information and a conniving cartoon mosquito.
While they may be telling you that they have the best deals on mosquito misting systems or manual mosquito misting services, you may want to rethink before you accept their offer. Fly-By-Night mosquito misters are all too common this time of year, preying on the fear of spreading viruses and uncomfortable outdoor gatherings due to spring and summer's most infamous pest. Here is the information you need to know to discern the true experts from the scammers.
What Is Fly-By-Night?
Fly-By-Night refers to individuals who try to pass off as a professional in a given field. They often have a business name, a number, and even an email address which they use to trick individuals into thinking they are a legitimate business. They may sell their services door to door or advertise themselves with clever signs on the roadside.
The truth of the matter is that the services they sell or propose to do are not legitimate and are designed to get unsuspecting patrons to hand over their money without providing the service promised.
Fly-By-Night Mosquito Experts
With the discovery of the Zika virus, individuals around the United States were looking for options to help rid their properties of mosquitoes to lessen the risk of contracting the virus. It was during this time that Fly-By-Night Mosquito experts popped up, becoming more and more prevalent as the fear grew. These scammers offered promises of misting yards to prevent and kill mosquitoes for a whole year, or they offered products that were supposed to keep mosquitoes at bay. Some of the products included mosquito repellent wristbands or stickers for small children. Unfortunately, many people fell for the scams and they lost hundreds of thousands of dollars.
How Can I Tell the Difference Between a True Mosquito Professional and a Scammer?
When it comes to trying to figure out if you are talking to a true mosquito expert or a scammer, there are several things you can keep a lookout for.
Check to See If the Business Has a Website:
Professional businesses will have a pristine website that clearly outlines their services and products. For Mosquito Professionals, they will have what kind of services they offer along with a blog or about us page where you can get information on the company's background and knowledge. They will also list any affiliations with the Better Business Bureau or other professional organizations along with their contact information and business address.
Check for Reviews or Testimonials
True professionals will be happy to share with you success stories or references so that you can get a better understanding of their quality of work. If the 'expert' you are talking to refuses to give you a list of references or there are no reviews for them online, then they are most likely a scammer or are trying to hide their poor practices.
They Are Not Afraid to Answer Questions
One of the quickest ways to sniff out a scammer is to ask about the services or products they are trying to sell you. You should ask questions about what type of chemicals they use for their repellent or what brand of mosquito misting system they install. Verify if their insecticide has been tested and approved by the EPA or if they offer repair/refill services for their system.
If they try to avoid such questions, take a long time to answer, or flat out refuse, you are most likely dealing with a scammer and not a true expert.
They Are Asking for Payment Upfront
If the 'expert' you are talking to asks for full or partial payment upfront and promises to come back later to do the service, do not use them. They are often trying to take money from you and split-town before they ever fulfill the service they offered. A true professional will not charge you until after the service has been completed.
They Don't Ask You to Fulfill a Consent Form With the Necessary Information
Pest control and mosquito control businesses are legally required to obtain a consent form that has the following information before ever applying pesticide to your yard. This info includes the following:
The name of the applicator that will perform the service
The time and date the application is to take place
A description of the target pest to be controlled, in this case, mosquitoes
A list of pesticides to be used or the name of the pesticide in the misting system
A list of precautionary warnings
Detailed information about the pesticide and any risks associated with it
Devices That Are Not Mosquito-Control Strategies That Are Often Passed On As Such
If the 'professional' you are talking to tries to sell you any of the following, do not accept services or products from them. These strategies do not work and are scams:
Ultrasonic devices or Apps
Bags of water suspended from the ceiling
Pesticides made from Listerine
Citronella candles
Wristbands with natural oils
Stickers laced with natural oils
Put Your Faith in the True Experts
Don't fall for fly-by-night mosquito scammers, instead, put your faith in the true professionals. Unique Outdoor Illumination & Mosquito Pros has been providing comprehensive mosquito misting control solutions for the residential and commercial properties of Houston, Texas, and the surrounding areas since 2008. We are licensed in the State of Texas and our certified applicators can install either our unparalleled Mistaway Automatic Mosquito Control System or provide manual fogging services. Contact our team today for more information on our services or to schedule an appointment with one of our mosquito experts!
Additional Resources: