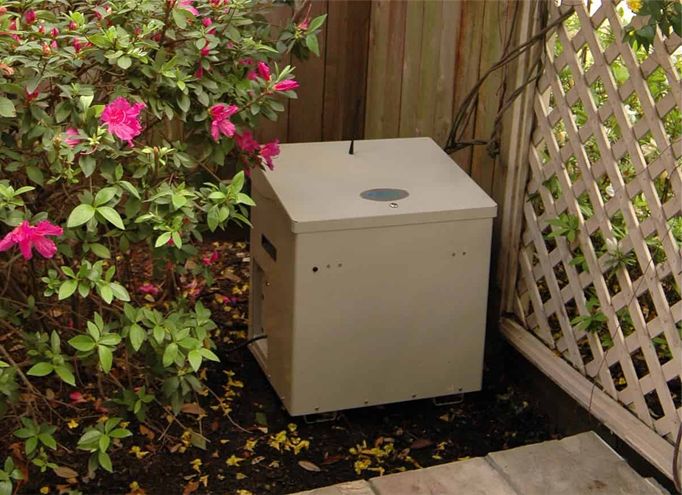 Fed up with the annoying mosquito infestation problem in Houston? Say goodbye to your mosquito woes with the Mistaway Gen III Tankless Mosquito Misting System! It has a superbly compact and lightweight design enables it to fit anywhere in the most unobtrusive manner. In addition, it has customizable nozzles and is automated, offering residents ease, comfort, and convenience. Above all, it's an extremely effective solution that can help rid your property of the nuisance of mosquitoes and other pests like wasps and flies, leaving you with a mosquito-free yard and environment to enjoy the beautiful summer. Here are some of its most desirable attributes:
Lightweight Design
If you want the same results as Gen 1.3 with a more portable and lightweight design, then the Gen III+ auto mist mosquito control in Houston TX can accomplish just that. It can be placed anywhere in your yard close to a hose bib and electrical outlet. While the Drum-Based misting system is a more affordable option, the Mistaway Gen III is a lightweight option that may be more suitable for your situation.
Plus it is tankless and less obtrusive than the other options, making it the perfect solution for any yard. We understand that yard space is precious and with this mosquito misting system, you can make optimum use of it. With the Gen III, you don't need to place a bulky drum or tank anywhere on your property – you can use the space for other more important purposes. Moreover, since all that the Gen III system needs are a hose bib and electrical outlet, it won't hamper the aesthetic quotient of your landscape. No one needs to know the secret of your mosquito-free property!
Customizable Nozzles
For your specific mosquito control requirements, you can tailor your approach with customizable nozzles. This model also comes with complete connection adapters and other items in the factory finish kit. With this arsenal of mosquito protection, you can be assured that your home will be an oasis from mosquitoes.
Automated Mist Spray
The MistAway Gen III automatic mosquito control in Houston TX has an auto-control mist option that lets you choose the times for dispersing repellants. With a completely programmable auto-timer, you can set the misting system to switch on at your most preferred times. For instance, you can spray the repellant at dusk and dawn when mosquitoes and other pests become most active, and other beneficial insects like bees and butterflies do not. Spraying the mist at these optimal times is an effective way to rid your property of bothersome mosquitoes.
Incredible Effectiveness
Unique Outdoor uses a specially formulated botanical insecticide that is incredibly effective on mosquitoes but gentle on humans and animals. Moreover, to ensure that every inch of your yard is sprayed with this potent solution, we use precision-engineered mosquito misting nozzles. But that's not all. We install them every 10-15 feet around the perimeter of your property, ensuring that the area is fully covered including fence lines, trees, corner-most spots, and crevices. With such clever positioning, it's impossible to miss any region of your yard.
The mist-emitting system is just as cleverly designed, with a fine mist that drifts around the property and settles on the grass and landscaping where it kills any pest that comes into contact with it. Plus it has an electric controller that can automatically initiate a 30-60 second mist at the set hour. Our MistAway mosquito misting system can also help control other pests such as spiders, flies, and gnats. Furthermore, it can work automatically or with a hand-held remote so you can operate it in a manner that is most convenient to you.
To get the Gen III automatic mosquito sprayers in Houston TX installed in your yard or for more information contact us today!