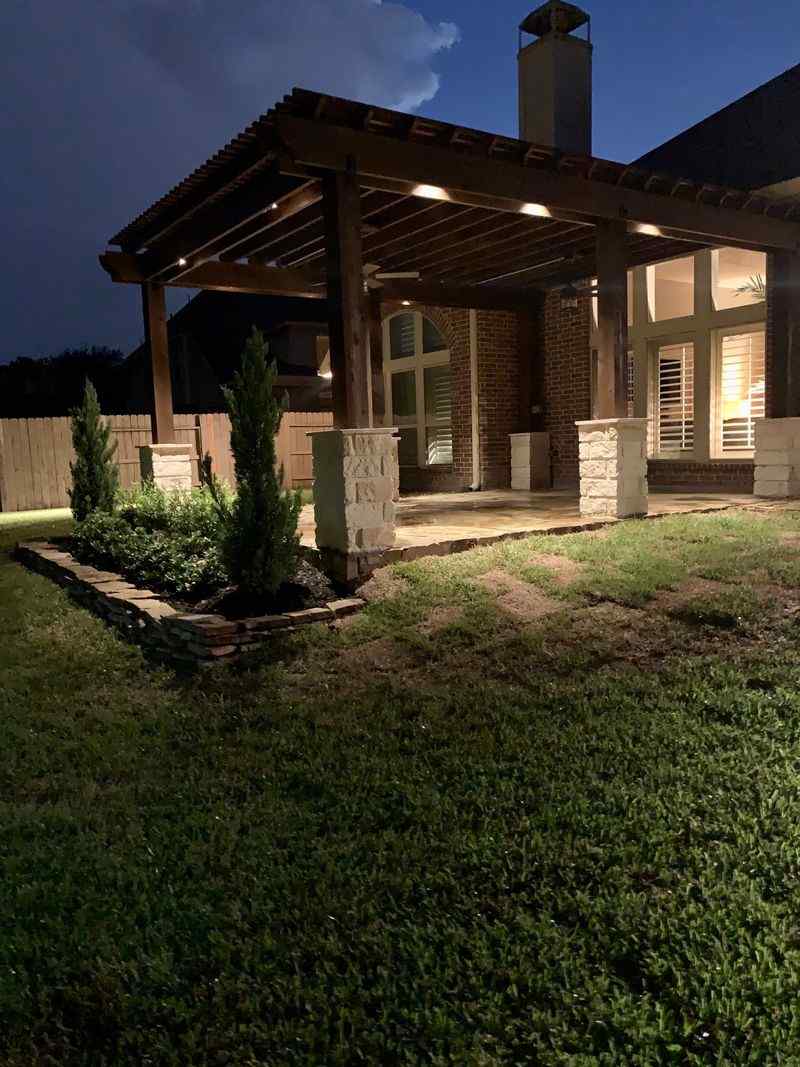 Landscape lighting is one of the most effective ways to boost the appeal of your home when the sun goes down. Not only can strategic outdoor lighting increase safety while moving about the property, but illumination can also enhance beauty and add value to the home. Here are five tips for making the most of outdoor lighting.
1. Light Your Pathways
Property residents and guests alike will benefit from well-lit pathways to outdoor living spaces when moving around after dark. Adding lighting reduces the chance of tripping on landscaping elements by illuminating potential hazards on the path.
Pathway lights also prevent people from accidentally stepping on your plants while simultaneously showcasing their beauty. Good lighting can help the materials and design of your pathways stand out. On top of that, effective pathway lighting highlights changes in elevation on your paths, whether from an incline or stairs.
Pathway Lighting Tips
When deciding what type of lighting works best for your pathways or flowerbeds, avoid using uplighting. Uplighting can cause light to shine directly into your guests' eyes, resulting in a blinding glare that worsens the problem. Instead, use downlights. These can be placed higher up in trees, casting pathways in a soft light and helping you and your guests see without worrying about being blinded.
Another pathway lighting option is to use directional stakes in landscaped beds to complement plants and flowers without the light being too distracting.
There are also flush lights, which can be installed directly on the ground, reducing the risk of guests accidentally tripping on your lighting fixture. These types of lights are perfect for stairs and near flower beds to capture the beauty of shrubs or low-to-the-ground flowers. They can even be used around larger landscape features, such as ponds, to create a border of light that prevents people from accidentally falling in.
Finally, you can create broader areas of vision by placing 360-degree bollard lights or moonlighting installations on trees or architectural structures. This approach creates a soft illumination that will make the space feel magical.
2. Use LED-Low Voltage Lighting
LED lights are one of the most versatile forms of lighting in use today. They are highly energy-efficient and come in an array of colors. You can also often preset them to create a light show!
Homeowners appreciate the fact that these lights don't generate heat, which is highly desirable in our often hot Houston climate. The lack of heat lessens the risk of a burn injury, making them a great option for anywhere with pets and children.
LED lighting is an ideal choice for foliage-heavy areas where high-voltage lighting could potentially wilt or burn plants. Due to their versatility and water resistance, many homeowners choose to install them near elements including:
Ponds
Gardens
Pools & Spas
Outdoor Kitchens
Outdoor Dining Spaces
Patios, Decks & Outdoor Living Areas
3. Make Sure You Know Where Your Lighting Focal Point Is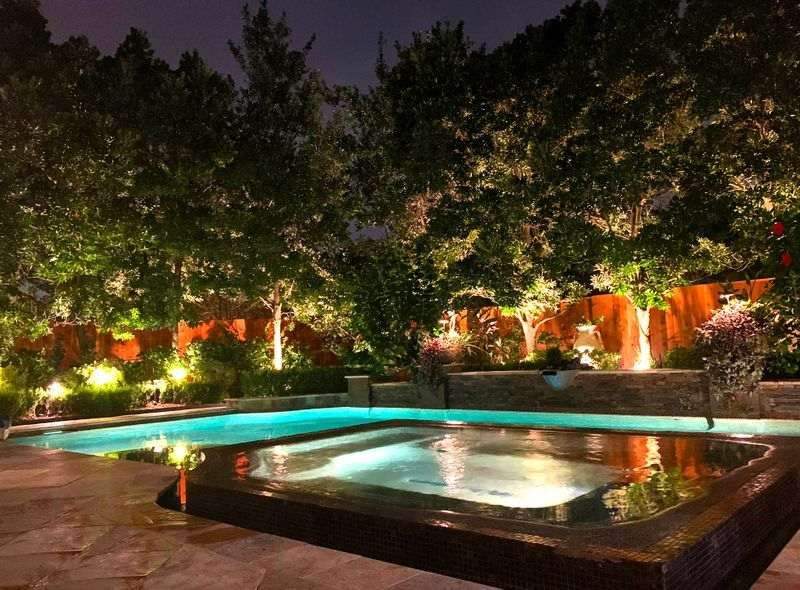 If you have a flair for the dramatic, you can create visual intrigue amid your outdoor living spaces with strategic lighting. Choose a few focal points that really make your landscaping stand out. This could be fountains, ponds, or a pool that, with a well-placed spotlight, can serve as a functional piece of art.
You can create a similar effect by placing ground beams under highlight statues, spray fountains, or even particularly majestic trees. When installing spotlights, make sure they don't shine through your or your neighbors' windows. After all, beautiful, lit-up landscaping shouldn't keep anyone awake!
4. Illuminate the Architecture
The Houston area features a variety of architectural styles, so why not showcase your home's best features with outdoor landscape lighting? Downlighting or uplighting can be placed along the perimeter of fencing and the facade of the home's siding as well as near displayed architectural landscape pieces.
You can also place lights beneath any small bushes or trees close to the exterior walls to create intriguing silhouettes on the siding. Keep in mind that lights placed further away from structures will result in a more subtle lighting effect, while those placed nearer to them will make a bolder statement.
Other areas of focus should be near entryways, driveways, and the garage, which are key points where safety and security is essential. One of the most energy-efficient ways to control outdoor lighting is to install motion sensor lights or dusk to dawn lights. These activate as needed and can be an effective way to ward off intruders.
5. Don't Be a One-Type-of-Light Home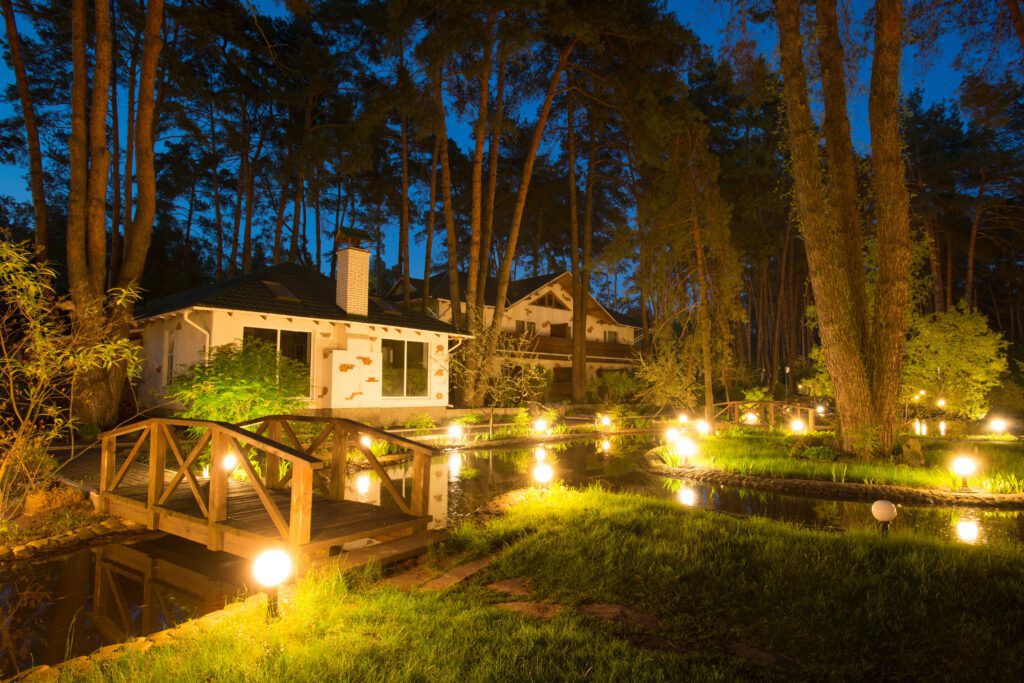 Our lighting experts can make your vision a reality with our incredible outdoor lighting design and installation team. Our goal is to illuminate the best features of the home and its surrounding landscaping while increasing safety and security. To do this, we mix different lighting elements to highlight particular areas of interest and create visual focal points.
We recommend using task lighting to illuminate pathways, deck perimeters, outdoor steps and entrances. Task lights are ideal for lighting up outdoor kitchens for evening entertainment. Ambient lighting is a good choice to cover large areas, and using a bulb with a lower lumens output can add a calming vibe to outdoor living spaces.
Outdoor post lights are another good choice along driveways and around backyard pools or fence lines. Our outdoor lighting professionals will help you make the best choice to meet your lifestyle needs. With our expert advice, you can improve your home's safety and also add value to it with lighting installations.
Light Up Your Home with the Pros at Unique Outdoor Illumination & Mosquito Pros
Unique Outdoor Illumination is the go-to landscaping and lighting company in Houston, TX. We have an array of illumination options to light your exteriors, enhance your outdoor space's appeal, and boost safety. We can also help eliminate mosquitoes and install synthetic turf so you and your family can enjoy the great outdoors to the fullest. Contact us to schedule an appointment for a professional consultation.
Additional Resources: