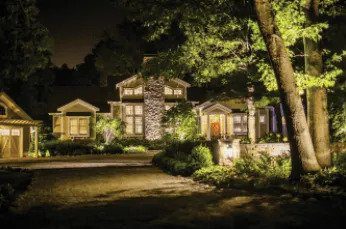 Outdoor landscape lighting is something quite a few homeowners think about if they don't have it on their property already. If this includes you, below you'll find a breakdown regarding how you should consider moving through the due diligence process before coming to your own decision.
Landscape Lighting Cost
Some homeowners tend to avoid considering landscape lights thinking that the cost may be too high. However, generally speaking, they can be surprisingly affordable to install and provide great value for money. But remember that the price of modern outdoor lighting in Houston, TX is impacted by many factors and depends on your exact requirements. Let's take a closer look at the situation! 
Factors that Impact the Price of Landscape Lighting
The pricing for residential outdoor lighting depends on the specific situation, and it varies depending on your choice of lights, fixtures, and accessories available along with the variables below. 
General/Preliminary Questions
Here are some questions you should ask that will impact how much you pay for your landscape lighting.
How big is your landscape space?
How complex do you want your lighting? (Underwater lights, path lighting, or a simple lamp post?)
Are you looking to create a specific scene with accent lighting?
The extent of your lighting requirements and the types of lighting fixtures will impact the price. In addition, additional technical factors like the need for a transformer for the lighting system or the need to lay out underground cables or running conduits will increase the cost.
Potential Electrical Needs
Typically, larger houses require a long length of cable runs and large transformers to ensure the lights are powered by one circuit. Some old houses also typically require extensive electrical work such as upgrades of exterior outlets or the installation of new 110-volt exterior GFI outlets, conduits, and sockets. 
The Effect of Terrain
In addition, the type of outdoor terrain may impact the trenching process which in turn drives up the price of landscape lighting in Houston or anywhere else for that matter. Some houses have outdoor spaces or front yards with soft soil that can be easily dug to make room for fitting fixtures whereas others are surrounded by hard rock or clay that requires special equipment or additional labor.
The Potential Range of Cost
The cost of outdoor landscape lighting in Houston, TX is around $1,900 on average (which includes a stainless steel transformer, photocell, 10 LED high-quality lighting fixtures, and installation) and will increase based on the fixture count needed to adequately light the property… Furthermore, as you add more accents, premium lighting, or more sophisticated fixtures for an enhanced effect, it raises the cost. 
Why It's Worthwhile
A beautiful landscape creates a lovely setting around your house where you can enjoy family dinners and even entertain guests. However, the landscape can be much more welcoming with lights that bathe the outdoor space in a soft warm glow, which instantly elevates the ambiance, creating a magnificent backdrop for your evening get-togethers.
Increased Security with Landscape Lighting
In addition, to the benefit that outdoor lighting can have on the aesthetics of your home, they also increase the safety and security of your home. 
Moreover, after investing in your landscape gardening, it makes sense to install outdoor lights so your perfectly manicured outdoor space is visible and looks great at night, too.
At Unique Outdoor – the leading company for outdoor landscape lighting in Houston TX – our highly experienced consultants have the know-how to elevate your landscape scene. They do this by illuminating the right spots and corners with just enough light to bring out the beauty of your property's greatest features.
Get Started Today!
When you choose Unique Outdoor for your outdoor lighting in Houston, TX we conduct a comprehensive walk-through with you during the initial meeting. The goal is to identify your lighting requirements, the vision you want to bring to life, and the front and backyard lighting fixtures and lamps of your choice. We then present you with the lighting proposal with the complete cost structure.

To get started, contact us for a free quote!