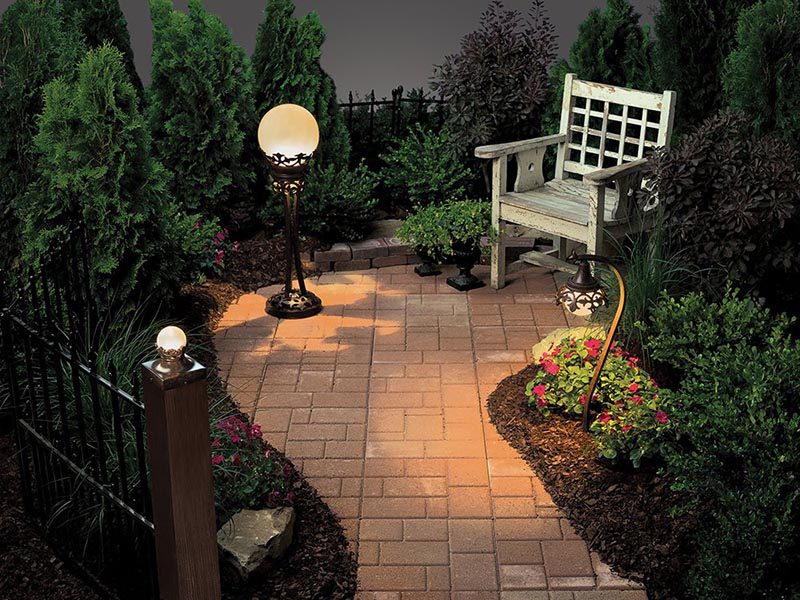 Landscape Lighting Increases Security
Are you looking for ways to improve the safety security and beauty of your property? Security systems, alarms, cameras, and even security personnel are all different ways that can effectively help you rest peacefully.
All of those options have their benefits and drawbacks, but none of them do much for the aesthetic appeal of your property. Outdoor landscape lighting, on the other hand, is a simple way to increase both the security and beauty of your property.
A professionally designed outdoor lighting system does so much more than beautify a place. It allows property users to enjoy their outdoor spaces at night by providing a lighted path so residents can easily navigate the property without worrying about obscured obstacles. Most importantly, it illuminates dark corners and niches where danger might lurk.
A major study jointly conducted by the Mayor's Office of Criminal Justice, the New York City Police Department, and the New York City Housing Authority showed that outdoor lighting reduced the crime rate by as much as 39%.
Indeed, landscape lighting increases security, which should always be a factor for any property owner. Besides security, it also enhances the safety of residents. In essence, adequate security lighting is just as important a feature as a tall and sturdy door.
Multifaceted Benefits of Modern Outdoor Lighting in Houston, TX
Outdoor lighting serves three important purposes: lighting pathways so people can see where they are going, elevating security, and augmenting the overall aesthetic appeal. Unique Outdoor sheds light on each of these!
Exterior Lighting for Curb Appeal & Safety
Properly designed and installed outdoor lighting can add beauty to your property. It's an ethereal experience to watch the space come to life at night as your property's features are illuminated in a beautiful soft glow exuded by strategically placed outdoor lights.
Landscape areas are often decorated with very attractive outdoor features like artifacts, art pieces, miniature gardens and ponds, sculptures, and waterfalls, all of which can be specially highlighted with light accents to create the vision you've always dreamt of.
In addition to intruder security, outdoor lights can help illuminate hard-to-see hazard spots. When considering outdoor lighting, always consider providing light along walkways, stairwells, and other appropriate paths. This is important for overall safety.
Apart from backyard lighting fixtures, Unique Outdoor provides path lighting that can be tailored to the architecture of your landscaping and house, illuminating sidewalks, stairs, narrow trails, or just about any passageway or corridor that serves as an entryway into or out of your home. 
Besides, as the place comes alive in the evening, properly placed and installed lights improve visibility and offer a reassuring feeling of safety. This encourages you to use your outdoor space for previously impossible nighttime recreational opportunities like reading, dining, swimming, exercising, lounging, entertaining, or simply just taking in its beauty at your leisure. A night of secure peaceful rest is just the icing on the cake! 
Does Outdoor Lighting Deter Crime?
Landscape lighting increases security by allowing your property to be seen when it may be dark outside. Properties that are properly illuminated reduce the risk of burglary. If your property is properly lit, it is much more difficult for a potential intruder to approach it without being seen.
Unlit or inadequately illuminated outdoor spaces create deep shadows or darken recesses that benefit troublemakers and offenders by offering them coverage. Well-lit outdoor areas, on the other hand, provide visibility that allows you to detect suspicious behavior and the presence of intruders so you can immediately call for help.
Thankfully in most cases, it doesn't have to come to that as security lighting serves as a powerful deterrent for crime, invoking the fear of being caught in the minds of criminals. Thus, landscape lighting increases security in an effective and cost-efficient manner.
Unique Outdoor Security Solution
When you're looking for lighting to beautify your property year-round as well as provide safety and security, look to Unique Outdoor Illumination and Mosquito Pros for all your outdoor lighting needs, whether it is amplifying its beauty quotient, increasing security, or improving the visibility around your property. 
What's more the ideal landscape lighting not only increases security but may even affect your property insurance coverage.
Valuable Investment All-Around
While many of us are aware that landscape lighting increases security, we nonetheless avoid opting for it, thinking that it is quite expensive. Contrary to popular perception, outdoor lighting is affordable and provides great value for your investment.
Unique Outdoor's lighting systems are all about value. Our solutions offer unique outdoor lighting in Houston TX that can address your concerns about safety and security while creating a wonderful setting for your evening activities. Our broad variety of lights and fixtures can complement diverse types of landscape outdoor spaces with the optimal amount of light.
Plus we have proven expertise in meeting a diverse set of requirements, be it fortifying your property against external threats, boosting its aesthetic appeal, or increasing the value of your property.
If you are ready to increase security with the best outdoor landscape lighting, contact Unique Outdoor, your Houston area illumination expert.