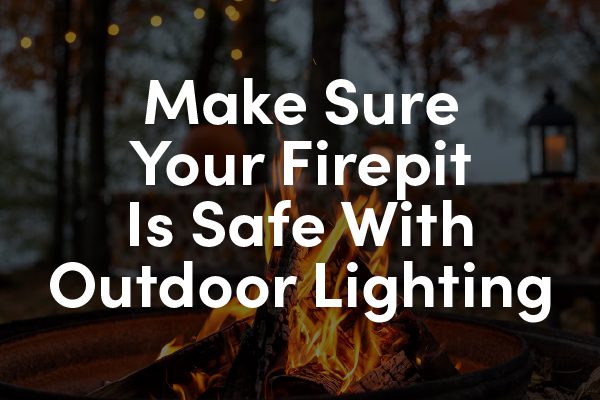 Make Sure Your Firepit Is Safe With Proper Outdoor Lighting
Firepits offer a wonderful place to sit down and relax after a long day. Gather together with family and friends to enjoy a quiet conversation next to a roaring fire or set the mood for your favorite book by reading fireside with a glass of wine. Whatever you plan to do with your firepit, you will want to make sure that it is safe for your family and guests by installing outdoor lighting.
While outdoor lighting around a firepit may seem counterintuitive because the flames provide a nice warm glow, outdoor lighting ensures that guests can find their seat safely, keeps them out of areas they shouldn't be, and helps safely direct them around your property while highlighting gorgeous landscape features nearby. Here are some of the passionate outdoor lighting team from Unique Outdoor Illumintion & Mosquito Pros's suggestions for outdoor lighting around your firepit:
Welcome Your Guests With Path Lighting
Pathway lighting is perfect to lead your guests safely towards your firepit, keeping them safe from tripping over unseen debris, such as a twig and also highlight changes in elevation. Show off your pathways' gorgeous material, whether it is glittering stone, richly colored brick, or patterned concrete while also ensuring that guests stay on the path. Pathlights clearly outline where your guests should be walking, helping to keep them from accidentally stepping on your flowerbeds or wandering off into areas of your property where they shouldn't be.
Illuminate the Seating Area Around the Firepit
Set the stage for your evening by the firepit by bringing the area to life with well-thoughout outdoor lighting. Our team recommends using the following types of outdoor lights to help light up the area around your firepit without taking away from the beauty of the fire.
Seatwall Lights
Seatwall lights are a fantastic option to illuminate your seating area without being overly distracting. They are installed under the ledge of the seatwall and direct light towards the ground to illuminate the space around the seating area. This allows your guests to see corners and the walkway around the seating, ensuring that guests don't stub toes, trip and fall over unseen obstacles, and allows them to safely find their spot. On top of that, the stone or brickwork that makes up the seating for your firepit will be highlighted in a gorgeous light, helping show off the intricate details that give it character.
Copper Light Sconces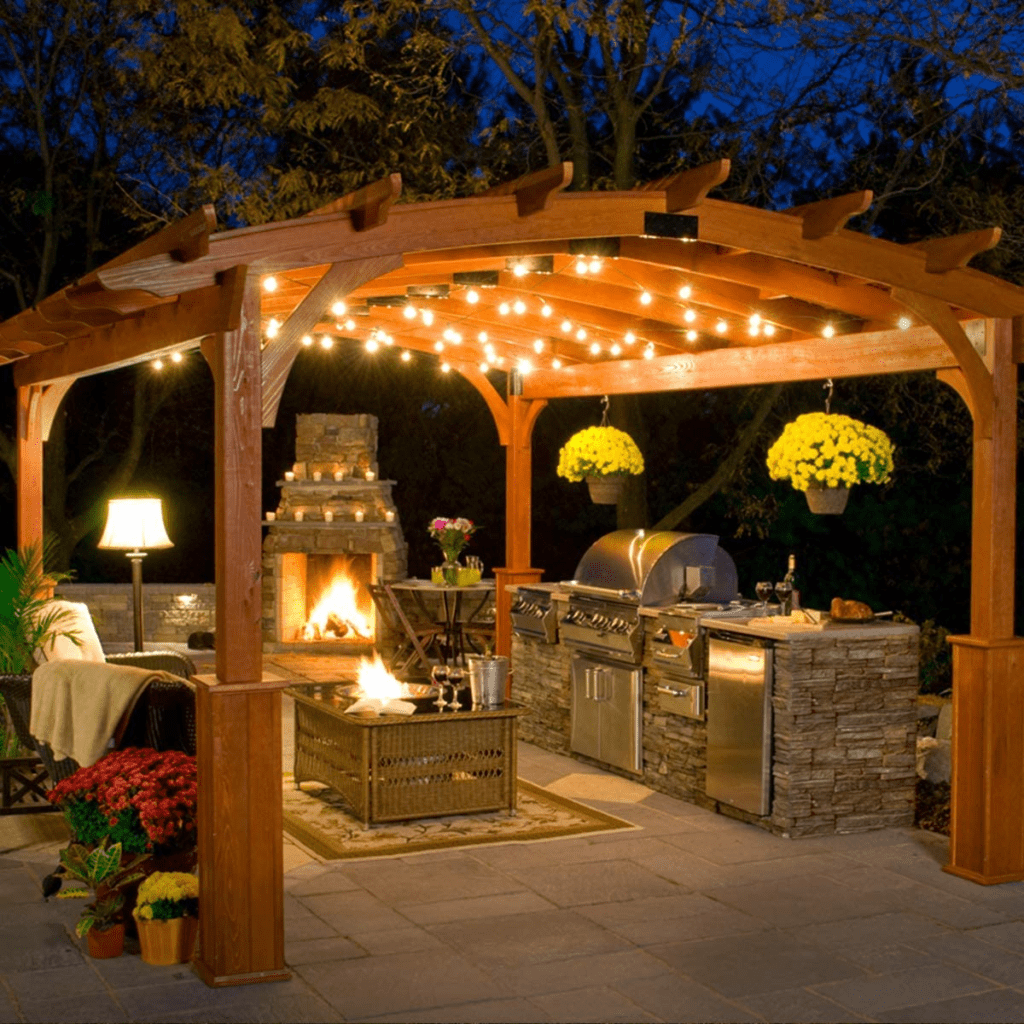 Copper light sconces complement the stone or brickwork of the area around your fire pit, and creates a unique style that helps elevate the look and feel of your firepit. The light is bright enough to catch the eye but not so distracting that it takes away from the dance of the flames.
With the copper light sconces orange-red metallic tone, it compliments any number of style choices, such as Southwestern and Rustic. With the bright light of the fire, these colors will pop, embellishing your firepit area and making your outdoor space feel absolutely cozy.
Down Lighting
Downlighting is perfect for creating a soft glow around your fire pit to help increase visibility without being blinding. The light is directed towards the ground, allowing the light to flood out and highlight darker sections of your outdoor living space without placing the light directly into your guests eyes. This allows the ambiance to be relaxing, creating a sense of security, and allows guests to see what they are doing. Downlights can be installed on nearby trees, your home, or on a nearby gazebo to help light the area.
Use Uplighting to Show Off the Surrounding Landscape
At the other end of the spectrum, we have uplighting. Uplights are pointed upward from the ground to create a dramatic effect using shadows. It can highlight specific landscape features around your firepit, such as bushes or trees, capturing their silhouette against a fence or wall. The incredible visual that is created using uplighting can help show off the beauty of your property while creating a play between light and dark that elevates the look of your firepit.
Enjoy Every Moment in Warmth and Safety
Sit by a roaring fire and enjoy the beauty of mother nature and the gorgeous Texas night by creating a warm environment through landscape lighting. The team at Unique Outdoor Illumination & Mosquito Pros is dedicated to combining both safety and beauty for your outdoor living space. Contact our team today for a free quote on your outdoor lighting design or to schedule an appointment with our design team to see how we can transform your outdoor space and display your property in its best light.
Additional Resources: