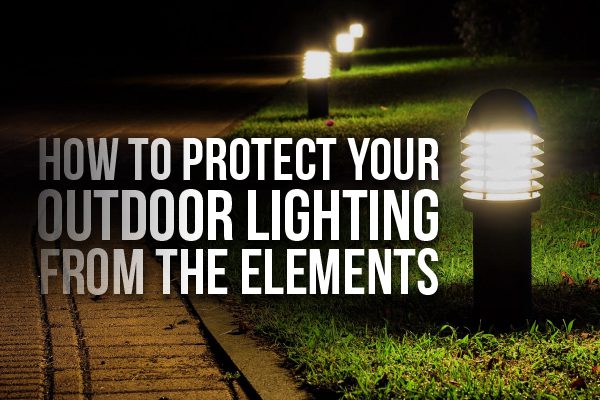 Outdoor lighting is an essential part of every home. Whether it is patio lighting for a new home or landscape lighting to show off a beautiful commercial property, outdoor lighting makes everyday tasks a lot safer.
However, outdoor lighting has to contend with the unpredictability of mother nature. From heavy rains and strong winds to damage from harsh UV rays, taking steps to protect your outdoor lights from the elements is paramount to their continued success. In this article, the team at Unique Outdoor Illumination & Mosquito Pros goes over the ways you can better protect your outdoor lighting from the elements.
Water-Resistant Landscape Lighting Fixtures
Landscape lighting fixtures not only look great, but they also make it easier to navigate around your home at night. When you are deciding on lighting fixtures for your home, you may want to consider going with waterproof fixtures for the following reasons:
Reduces the Risk of Electrocution: Water and electricity can lead to electrocution. It is important to make sure that all of the lighting used for your landscaping is waterproof to reduce the risk of the risk that you or a guest getting hurt.
Keep Your Lights Working: Moisture, rain, and snow can damage lights and prevent them from working correctly. Even in sheltered areas, lights can be exposed to water and snow.
Save Money Long Term: You won't have to constantly replace lights that become damaged. Paying a little extra for lights now can add up later.
How to Keep Insects Away from your Outdoor Lights
Insects play a vital role in nature, but they can't do that job when they are crowded around your porch lights! If your outdoor lights are on at night, it is a good chance that bugs will be attracted to them.
These are two effective steps you can take to help keep bugs away from lights:
LED Lights
One way is to use outdoor LED lights which attract fewer insects than conventional lights. In addition, using LED lights offers additional benefits, such as:
Efficiency: The energy efficiency of LED bulbs can translate into savings on your electric bill.
Long Lasting: LED lights generally last much longer than incandescent lights. You won't have to change out LED lights as often as traditional bulbs.
Less Heat Generated: Unlike incandescent bulbs, LED lights generate less heat, making them safer.
Great Performance in Cold Weather: Compared to incandescent lights, LED lights perform well in colder conditions. They are great for those cold Texas nights.
Use Warm LED Color Temperatures for Outdoor Living Spaces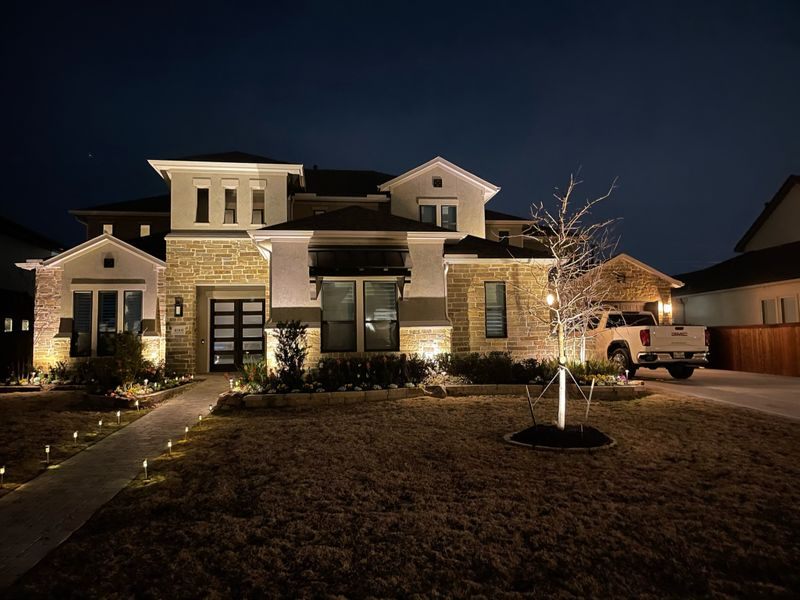 By using a warm light bulb, you make your lights harder for insects to see. Warm lights include colors like yellows, reds, and oranges. Just make sure that the light bulb you choose is rated for outdoor use!
Outdoor Lighting Placement
All outdoor lights have some exposure to the elements, but careful positioning can help alleviate it to a degree. Here are some tips from our experts to help you figure out the optimal placement for your outdoor lights:
Placement Techniques for Landscape Lights to Protect Them From the Elements
Sometimes landscape lighting is used in places more exposed to the elements than other outdoor lights. For example, it is hard to keep lights out of the elements when they are used in places like sidewalk paths or along a driveway. Below are several tips on placing your landscape lights.
Watch Out for Objects: Heavy winds can blow branches, patio furniture, outdoor decorations, and debris across your yard. It is important to ensure that your outdoor lighting is placed away from objects that can be constantly blown into it.
Utilize Sturdy Overhangs: Placing lights under durable overhangs can help shield them from debris and hail while providing gorgeous light for your outdoor seating area or nearby plants.
Anticipate Bad Weather: Adverse weather can be unpredictable, but thinking ahead to avoid potential problems can decrease the risk of damage. For example, you'll want to avoid installing ground lights in areas that are prone to flooding. In addition, open areas that have heavy winds can also be hazardous to lights that are installed higher up, such as on trees.
That makes it all the more critical to get landscaping lighting that is made for outdoor conditions. At Unique Outdoor Illumination & Mosquito Pros, we can help you select and install the right lights to meet the needs and challenges of your landscape.
Placement Techniques for Path Lighting to Protect Them From the Elements
Unlike landscape lighting that is installed closer to the house, path lighting is typically always exposed to the elements. Here are some placement techniques to ensure that these lights are protected when Mother Nature is at her worst:
Use Flush Lights: Flush lights can be a great way to illuminate a path outside your home or business. Since recessed lighting is installed directly into your walkways, it protects them from strong winds, and impact damage from feet and animals, and allows you to light up your paths without blinding your guests.
Watch for Hazards: Although you need to light specific areas of your path, you may have to avoid certain problem areas when using things like garden lights.
Placement Techniques for Patio Lighting to Protect Them From the Elements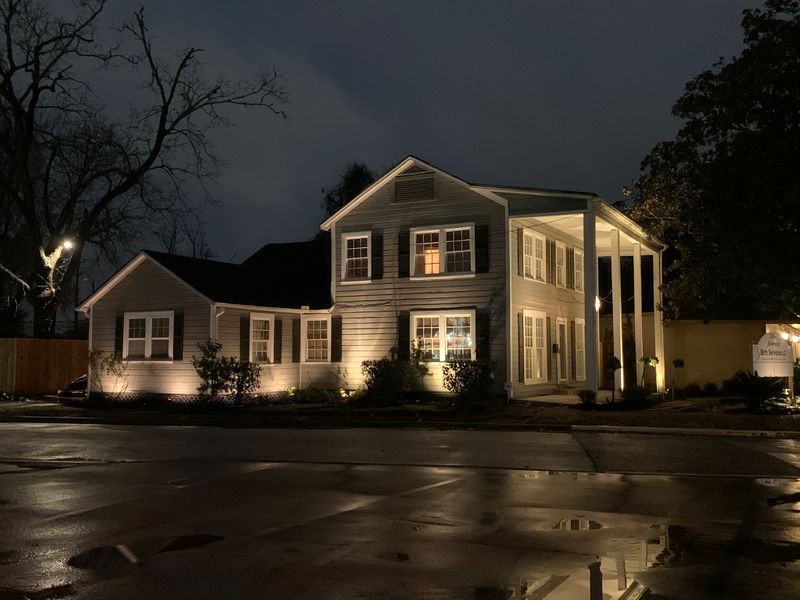 Unlike landscape lighting and path lighting which are at Mother Nature's mercy, patio lighting often has protection from the structure of your home. However, rain and moisture still find a way to reach even the hardest-to-reach placements. Here are some placement techniques to ensure that they are helping you enjoy the most of Texas's summer nights and are able to withstand the elements:
Use Ceiling Mounted Lights: If your patio is covered, installing lights on the overhang, whether it is a recessed ceiling light or a cool hanging fixture can ensure that your patio lighting is protected from heavy winds and rain.
Wall-Mounted Lights: If set up correctly, wall-mounted lights have added protection to your home's walls, providing light to the area around them. High winds won't have much effect on your wall-mounted lights and the risk of them getting drenched during heavy rains is also reduced.
Getting your patio lighting set up safely and correctly is something best left to professionals. If you're in the Houston, Texas area, our team can work with you to get the best results from your patio lights.
Use Outdoor Light Shields
If you are looking for some added protection against a predicted severe storm, using outdoor light shields is a great and affordable solution. These shields are easy to install and remove. While they are not the most aesthetically pleasing option, they create a nice barrier around your outdoor lighting fixtures, ensuring that the light can pass through but keep the moisture from heavy rains out.
Invest in UV-Resistant Lights
Texas is well known for its plentiful supply of sunshine, but that sun can be hard on your outdoor lighting fixtures. Harsh UV rays can strip the color from your fixtures. Make sure you are always investing in outdoor lighting fixtures that have been rated for outdoor use, as these materials will have better UV protection, ensuring that they continue to look their best.
Outdoor Lighting Services in Houston, Texas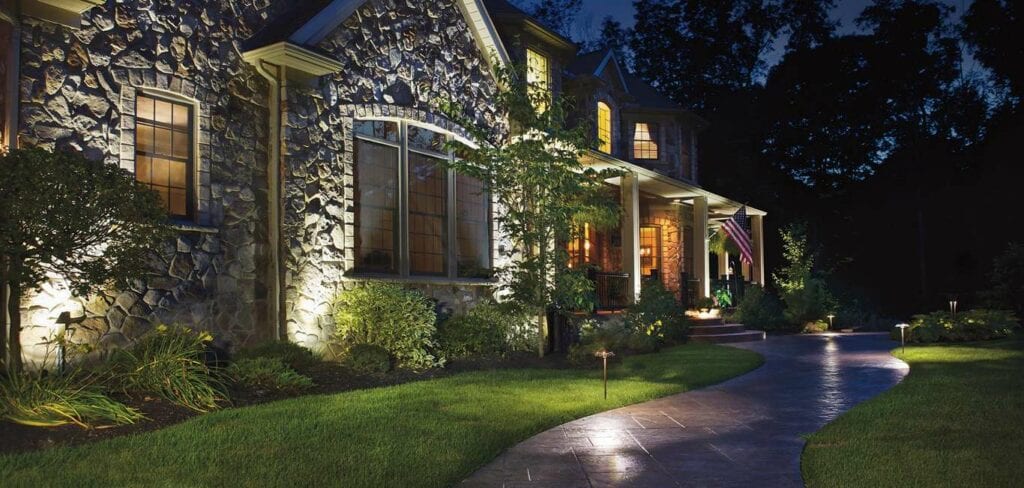 If this all seems overwhelming, there's no need to worry. At Unique Outdoor Illumination & Mosquito Pros, we've got the experience and expertise to help with your outdoor lighting. Since our founding in 1996, we've helped people around the Houston, Texas, area with their outdoor lighting needs.
Always remember, it's essential to routinely check your outdoor lighting for wear and tear.
If you have a light that does become damaged due to the weather or elements, or even if you just need routine maintenance work, we can help. It is important to fix problems before they get worse. Keep your lights working safely by contacting our team for a maintenance check.
The Outdoor Lighting Team You Can Trust
When you are dealing with electricity, it always pays to go with professionals. Our employees have earned the Texas Electrical Contractor License, so you know they have the knowledge to get the job done right and safely.
Our staff can help you select the lighting solutions that are right for you and get them installed correctly. In addition, we can supply lights that are made to handle the rigors of the great outdoors, from the Texas heat to heavy spring rain. So whether you are looking to replace old lights or need a new setup, we are here to help.
To find out more about how we can help you, contact our team and get your free quote today!
Additional Resources: