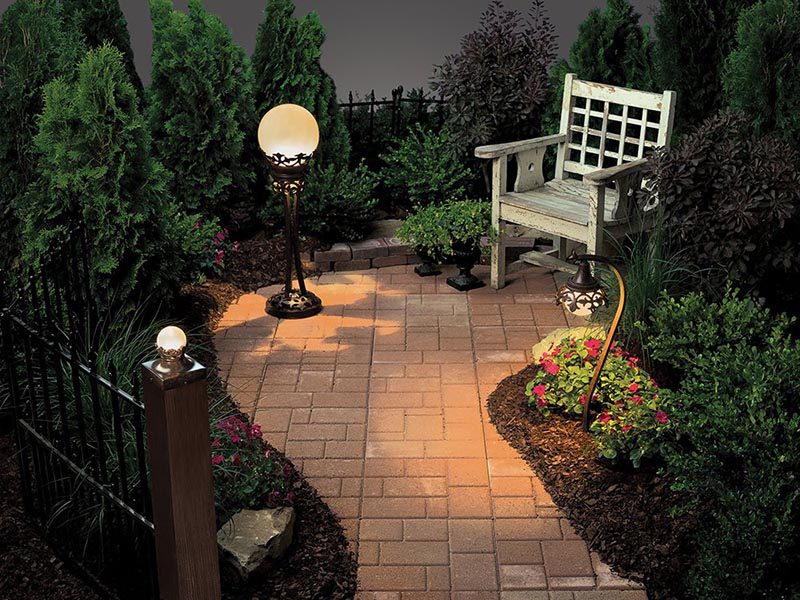 Landscape lighting can help enhance any property, drawing attention to gardens and arrangements, a home, and other outdoor areas. When done properly, landscape lighting can help make a home look fantastic and welcoming for people who like to spend time in their backyards after dark. Here are a few ideas to make a landscape look particularly stunning.
Conceptual Tips for Landscape Lighting in Houston
Before we get into specific tips for landscape lighting in Houston, it makes sense to approach the entire idea conceptually. Yes, a project to enhance lighting outdoors is almost always a good idea, but there are certain reasons above others that home and business owners should keep in mind when considering what they ought to do and how to do it.
The bottom line is that outdoor lighting, like anything else, needs to be done right and without cutting corners, as this is a worthwhile investment.
Aesthetics
Almost any list of tips for landscape lighting in Houston will include some consideration regarding aesthetics. While it's not possible to put a tangible figure on what aesthetic value is worth on a property, no one doubts that the better a home looks, the more it's going to be worth if it ever hits the market.
Aside from financial considerations, which we'll discuss below, the other factor that relates to aesthetics is the pure enjoyment that homeowners are going to experience if their outdoor lighting is done right. Outdoor lighting will draw people outside, and there are a lot of nights in Houston when sitting or spending time outdoors is a fantastic way to spend time.
Safety
When you live in a warm climate such as the one that exists in Houston, you're going to spend time outdoors at night. In the summer heat, it may be the only practical time to get some fresh air on some days. These tips for landscape lighting in Houston will help you increase the safety of your property.
When people are roaming around in the dark, it can lead to risky or even dangerous situations. You can't avoid what you can't see, and proper outdoor lighting in strategic locations can help people identify changes in elevation or landscape that could otherwise lead to problems.
Practicality
When some people hear or read tips for landscape lighting in Houston, they will recoil because they think taking this step will be too expensive. That's not necessarily the case, as economical options are available for people who want to keep things within a reasonable budget.
That doesn't just involve the fixtures themselves, either, as the pricing on these units runs the gamut. It also involves energy efficiency, as you can find low-voltage lighting, LED lighting, or solar lighting units that don't consume a lot of energy when they are running.
Financial Considerations
As we mentioned above, if you're going to enhance lighting outdoors for your home, it could ultimately lead to tangible benefits. Not only will your home look better at night, but it will also create an added layer of safety and security that can add value to the property. That may not be all that important to you now, but you will appreciate this feature of your home should you ever decide it's time to put it on the market.
Lighting Along Pathways and Walkways
It can look elegant and be practical to make sure that pathways are well-lit. Use fixtures that cast most of the light downward to capture the look and make sure that people can see where they are walking. Soft lights tend to be particularly pleasing to the eye. Low voltage or even solar lighting can make it easy to light up the pathways. Solar lights make it possible to do so without having to worry about running wires at all.
The entranceways where a path ends in the front and the back of the house should also have adequate lighting. Fixtures on either side of the door, for example, tend to make excellent choices. It makes the house look wonderful and makes it easier for owners and guests to see what they are doing as they approach a home.
Accent Lighting
Use lights throughout the backyard as accents for particularly popular spots in the yard. For example, some people have certain portions of their gardens or trees that look wonderful. Placing some accent lights on the ground to shine up at these areas can be a great way to light up the yard softly and accentuate the best parts of a landscaping design.
Those with garden beds that do not have a focal point that can be accented can use lights around the outline of the bed. Lighting ropes may be placed under rocks or mulch along the border of a garden to create a surrounding glowing effect.
Make Sure the Deck or Porch is Well Lit
Those who will be spending time on their decks or porches at night should make sure that area is well-lit. Some accent lights and lamps placed around the perimeter of that area can be good choices.
Landscape lighting can help make any home feel more welcoming and perfect for entertaining guests and spending time in the yard even after the sun goes down. Use the above ideas to get started planning some landscaping ideas.
If you're ready to take the next step and enhance the lighting outside your home or business in the Houston area, you should contact our experienced professionals at Unique Outdoor today to discuss the possibilities. We look forward to working through them with you and proceeding from there.
Additional Resources: