No one wants to deal with the terror of a home invasion. Unfortunately, according to Forbes, over one million home invasions occur every year in the United States. There are many precautions you can take to help protect your home. As each situation is different, we strongly recommend working with a professional to protect your home.
Here, we'll discuss different types of security lighting and how they can fit into your home security plan. In addition, it's important to remember that security lighting is just one piece of a larger security system.
Outdoor Security Lighting
As with decorative lighting, different types of lighting fixtures can be utilized in security lighting. There is no one-size-fits-all approach to security lighting, as each home or location may require a different setup. You can better protect your home by accompanying your security lighting with other system equipment, such as indoor and outdoor cameras, glass break sensors, motion sensors, and alarms, among other things. In addition, please note that this list is by no means extensive, as many types of security lights are available.
It is important to remember that no system is perfect, and security lighting should be used alongside other precautions such as alarms and cameras. For the best results, it's a good idea to work with a trusted security company to develop an all-encompassing security plan for your home.
In the following section, you'll see some common security lights and their applications around your home.
Timed Security Lighting
With timed security lighting, the homeowner controls when the lights will be activated. You can be more efficient with your lighting by setting them to only shine when it gets dark. This can help save money on your energy bill, as you can stop it from shining during the daytime. Their adjustability comes in handy when dealing with the changing hours of darkness throughout the seasons. It is important to keep in mind that timed security lights are often not as bright as a traditional flood.
You can better discourage home invaders by timing your outdoor lights in conjunction with indoor lights to mimic human behavior.

Motion Activated Security Lighting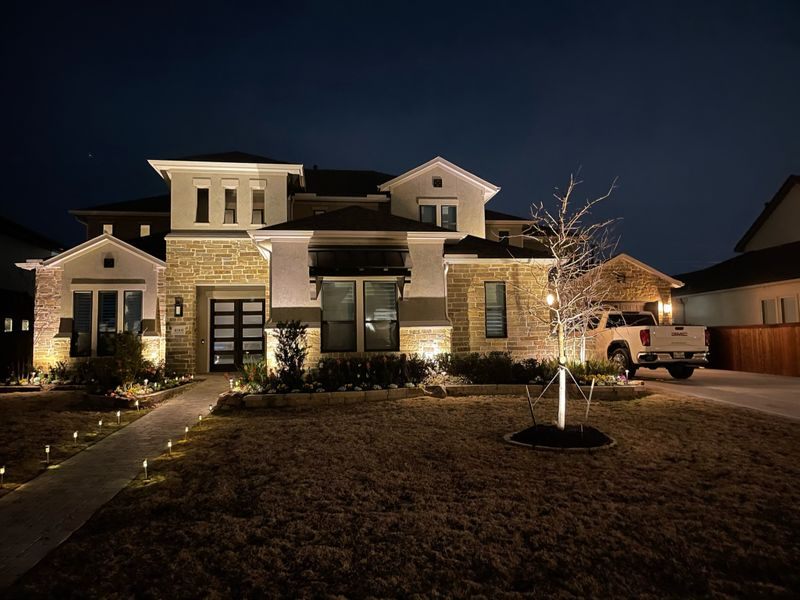 The idea behind motion sensor lights is that they stay off unless tripped by something coming into range of their sensor. This can help catch potential burglars off guard and potentially alert you to an intruder. As with timed security lights, this can also save you money on your energy bill. In addition, most motion-activated security lights have sensors to prevent them from being activated in daylight.
Floodlights
Floodlights cover a large area with light. Because of this, you'll have to be careful where you shine them, as they can easily interfere with neighbors if not aimed properly. They often can have a light width of 120 degrees. In addition, certain floodlights are dimmable, so you can prevent them from drawing too much attention and get the lighting exactly how you want it. When it comes to floodlights, you have many options available.
The most common types of bulb lights for floodlights for outdoor residential security use include:
Compact Fluorescent Light Bulbs: Compact fluorescent light bulbs are known for their affordability. However, it contains harmful materials to humans, animals, and the environment.
Halogen Light Bulbs: Halogen floodlights are extraordinarily bright. This brightness makes them a good choice to pair with motion-sensor lights, as a large amount of brightness could be disorienting to a home invader. Halogen floodlights generate heat, making them particularly dangerous to children and animals.
LED Light Bulbs: LED floodlights have many benefits. They are very bright and yet don't generate heat light like halogen floodlights. In addition to their effectiveness, they are also energy efficient, so you can save money by using these over traditional lights.
There are multiple types of LED flood light fixtures available. The main ones include:
Single-Head Light Bulbs: Homes with a small amount of outdoor space can utilize single-head floodlights. However, single-head floodlights are less common than other types of floodlights.
Twin-Head Light Bulbs: Twin-head floodlights feature opposing lights for better visibility. This is the most popular option for homes.
Multi-Head Light Bulbs: Mutli-head floodlights offer greater visibility than twin-head floodlights. Larger areas may call for these.
A type of flood light not frequently used in residential applications is:
HID Security Floodlights: Commercial properties like stadiums and warehouses often have high-density discharge (HID) floodlights due to their immense power. They can also be used in private settings, for example, with properties that have a great deal of land. There are multiple HID lamp types available.
Certain HID lights require a significant warm-up period and cool-down period. Given that, those would not be a good idea for applications that require them to turn on and off frequently. When they start to wear out, HID lights can lose effectiveness and suddenly stop working. Some HID flood lights have a feature where that will shut off if they overheat.
It should be noted that HID lights emit a large amount of UV and IV radiation, making them potentially dangerous to humans and animals. With security lighting in general, it's best to consult with a reputable professional. It is also important to note that HID lights contain toxic material. Explosions and fire are a potential risk with them.
Outdoor Soffit Lights
An outdoor soffit light is positioned on the underside of the roof. These can be used to illuminate an entrance or patio.
Pathway Lights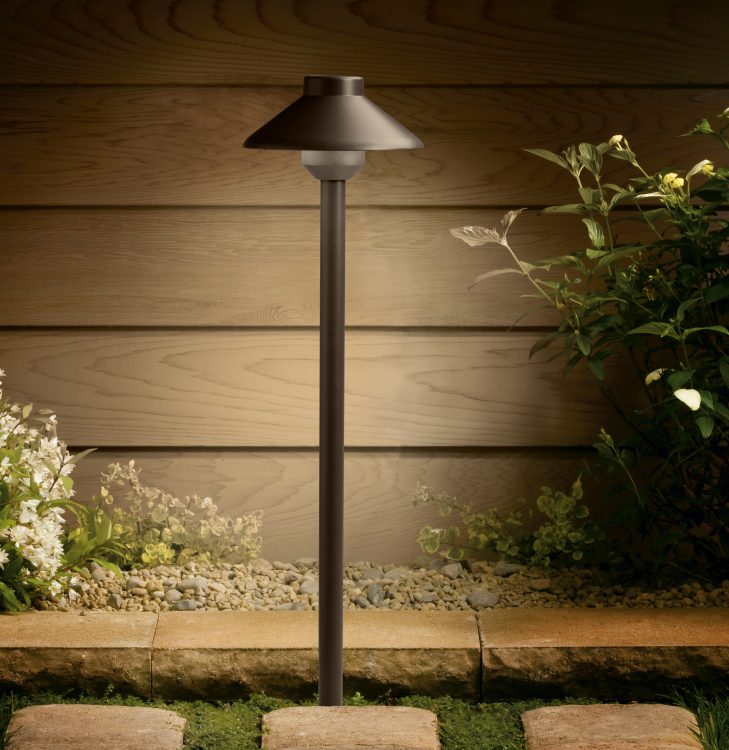 While pathway lights don't have the coverage of floodlights, they can be placed along walkways to highlight a specific area. However, given their general lack of lighting coverage, it may be necessary to use other lights in conjunction with them for added security. Also, they can help make walking at night safer by illuminating potential tripping hazards.
Outdoor Lighting Design
When it comes to outdoor security lighting, there is a lot to take into consideration. From selecting the right lights to positioning them most effectively, it can all seem overwhelming. In addition, it is important to have routine maintenance performed on your security lighting to keep them working as it should.
If you're in the Houston, Texas, area, the team at Unique Outdoor Illumination & Mosquito Pros can work with you. From design to installation, we can create a lighting system that increases visibility around your home while still adding to its visual appeal. For over 20 years, we've helped people get the most out of their outdoor lighting systems with our exceptional service and knowledgeable team. We look forward to working with you.

Contact us for a free quote on your security lighting.
Additional Resources: