When it comes to your outdoor lighting, the amount of choices available to you can seem overwhelming. Even knowing where to start can seem daunting. Outdoor lighting has many elements to consider, anything from the type of light fixture you use to light placement.
Unique Outdoor Illumination & Mosquito Pros has created this brief guide with variables to consider when selecting outdoor lighting for your property. As with anything electric, outdoor lighting can be dangerous if handled incorrectly. It is always a good idea to enlist the help of a professional for your outdoor lighting.
Landscape Lighting
Landscape lighting serves many purposes. For example, landscape lighting can be a way to showcase elements of your home's architecture, a pathway light to help you find your way, or something else entirely. You'll also need to be aware of the impact your lighting has on your neighbors and environment. For instance, your next-door neighbors won't appreciate a high-powered spotlight trained on their bedroom window at 3 in the morning.
Landscape Lighting Maintenance
While quality landscaping lights are made to last, it is important to keep in mind that all lights will require regular maintenance to keep them functioning correctly and safely. This is best done by an experienced professional.
Right Size of Outdoor Wall Lighting Fixtures for Home or Yard
The size of your lighting fixtures can have a significant impact on your outdoor lighting. By getting the right-sized lights, you can have lighting fixtures that are attractive and functional. If you are using too small of a light, it may not produce enough light to be useful.
A few tips that can help you determine a good size for outdoor lighting fixtures include:
When viewed from the street, your light tends to look about half its actual size.
If you are unsure, go with a big light that is eye level.
Make your home's entrance the focus of your lighting.
A piece of cardboard the size and shape of the fixture you are looking at is an excellent way to create a mockup.
Entry Area and Front Door Wall Lights
When selecting a wall light fixture for use by your front door, you'll want one that is around ⅓ to ¼ the size of your door.
To determine the specific size, please follow these steps:
Step 1. From top to bottom, measure the door and write down how many inches it is tall.
Step 2. Take the number of inches you've found and divide it by ⅓. Also, divide the number of inches tall the door is by ¼. Write down those two numbers.
Step 3. Select a light fixture that is in the range of the two numbers you have calculated.
Outdoor Garage Lights
As with front door wall lights, you can use the ⅓ and ¼ rule to find the optimal-sized outdoor lights for your garage. Carefully measure your garage door from top to bottom.
Patio Lights
The same ⅓ and ¼ rule that you applied to front doors and outdoor garage lights can be applied to patio lighting. You'll just need to look for the nearest door and measure accordingly.
Outdoor Lighting Fixture Positioning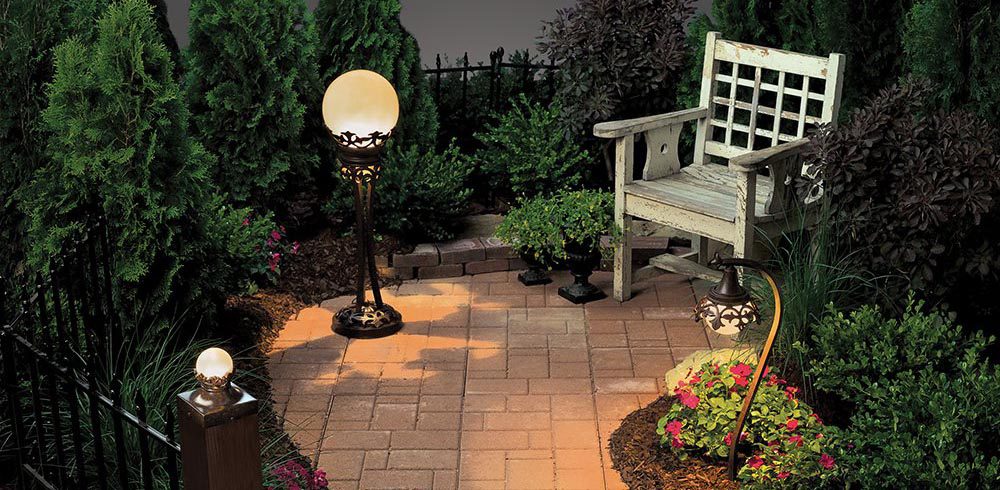 Not only is the size of the light fixture you use important, but how you position it also matters.
In the following sections, we'll cover some best practices for positioning your outdoor lighting fixtures. Please keep in mind that all situations are unique, and safety should always be paramount. An outdoor lighting professional can help optimize the outdoor lighting for your unique situation.
Outdoor Entry Area and Front Door Wall Light Positioning
Here are some tips to help you create a great first impression for your home.
On a lot of homes, the best height for outdoor lighting fixtures is at what most people's eye level would be.
For the average front door and entry area, the center of any sconces and wall lights should be 66 to 72 inches off of the ground.
If your entry space is especially tall, you can move up the lights a little, but too much over 72 inches is, for the most part, not a good idea.
Outdoor Garage Lighting Positioning
When it comes to outdoor garage door lighting, you have several ways to go about it.
If you have a single-car garage, you can use a single lantern-style fixture to the side of the garage door nearest your walkway.
If you want more light, you can position two lanterns on each side of your garage door.
As long as it does not interfere with the function of your garage door, you can position a garage light over the top of it.
Pathlighting Positioning
Outdoor Patio Lighting Positioning
If you have an outdoor dining area, you can use two to four fixtures positioned at equal heights to give your table an even light.
For small patio and deck areas, a single light can be used to illuminate an entryway or access point.
If you have a deck or patio on the larger side, use multiple lights. For more light coverage, position one near the entrance point and one at the edge of the patio or deck.
Security Light Positioning
By installing security lights at least six to eight feet above the ground, you can increase light coverage while making it harder for intruders to tamper with them. However, you will need to be mindful of the impact your lighting has on your neighbors and the environment.
Light Color Temperatures
Light color temperature is another variable in your outdoor lighting that has a big impact on the feel and look of your property. Color temperature is not an indicator of how hot a light is, but instead, the look of the light it produces. Different situations will call for different color lights. The lower the color temperature, the warmer the color temperature will be, while the higher the color temperature, the cooler the light.
Below is a brief overview of the Kelvin Color Temperature Scale and ways to use it for your outdoor lighting.
2,000K to 3,000K-Warm White Light
While not as bright as other light colors, the 2,000K to 3,000K range of light gives off a gentle and relaxing glow. As this light color range isn't as bright as others, you may need to complement it with additional lights.
3,100K to 4,500K-Cool White Light
The 3,100K to 4,500K color range provides great visibility. It works well in places where visibility is crucial, such as stairs or outside of an outdoor shed.
4,600K to 6,500K-Natural Daylight/Moonlight
The 4,600K to 6,500K lighting range produces a natural look that resembles daylight or moonlight. Given this visibility, this color temperature range is often used for security lights and is a great choice for outdoor garage lighting.
Durability of Light Fixtures
Since they are located outdoors, outdoor lighting is subject to the forces of nature. As such, they will have to be durable. Outdoor light fixtures need to be able to withstand hot and cold temperatures, rain and snow, and strong gusts of wind, among other things.
LED Lighting
Quality LED lights are a great choice for outdoor applications. As with all lights, outdoor LED lights can vary in quality; however, a good outdoor LED light can work great for your property.
An LED light tends to be more durable than other types of light and can generally handle harsh temperatures well. LED lights are also economical, as they are energy efficient and long-lasting.
Accent Lighting
Outdoor accent lighting is an excellent way to highlight areas of your property. For example, accent lighting on your house can bring attention to a wall or pillar. This option is an excellent way to celebrate what you've done to make your home and landscape beautiful.
Outdoor Lighting Installation
When it comes to outdoor lighting for your property, it always pays to have an expert by your side. If you're in the Austin or San Antonio area, Unique Outdoor Illumination & Mosquito Pros can be your partner in outdoor lighting. Founded over 20 years ago, we have the experience to help you get the most out of your outdoor lighting, whether residential or commercial. Not only can we design an incredible outdoor lighting arrangement, but we also offer maintenance and repair services to keep things functioning as they should.
Contact us to receive a free quote!
Additional Resources