Outdoor Mosquito Control Services in Houston, TX
---
Our comprehensive mosquito control services include professionally installed misting systems and monthly fogging options. All operations are performed with the oversight of a Certified Applicator licensed in the state of Texas to give you consistent results. For more information about our mosquito control options, fill out the form to get your consultation from one of our trained experts.
If you are looking for mosquito control solutions you can trust, we offer the most reliable, mosquito misting systems on the market today. In addition, all misting systems we install include our Lifetime Parts and Labor Warranty. This means you won't have to worry if your system needs repairs, we have you covered. First and foremost our goal for you and all of our clients are consistent results.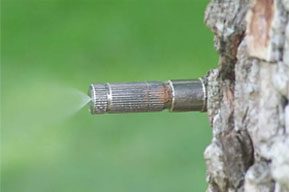 Mistaway Mosquito Misting System
---
The MistAway Mosquito Control System is an automatic mosquito misting system designed to take the burden of mosquito control off your shoulders. This gives you the control to disperse repellants on your terms and proactively combat mosquito populations. The automatic timer can be set so that the system will come on at dusk and dawn when mosquitoes and other biting insects are most active.
GEN 1.3 DRUM-BASED MISTING SYSTEM
---
The Gen 1.3 Drum-Based Misting System is the industry standard. It has a molded plastic enclosure and a soft waterproof cover that provide tough weather protection for the system's proprietary controller and other components.
GEN III+ TANKLESS MISTING SYSTEM
---
The Gen III+ mosquito misting system is a tankless outdoor mosquito control system. It is small, lightweight, and can easily be placed anywhere in your yard that is close to a hose bib and electrical outlet.
MONTHLY MOSQUITO FOGGING SERVICE
---
For long term mosquito control, our misting systems yield the greatest returns on investment. However, we also have mosquito fogging services available if you need a short term solution for special events like parties, weddings, and outdoor activities. This service option is ideal for individuals who need a quick fix or a few months of mosquito control instead of year-round service.
TESTIMONIALS
---
Average Rating:
4.9 Stars

177 reviews
Your service is always great 👍
Mike/Barbara D.
Very good fixed quickly.
Jane O.
Mark & his team are fantastic!! Highly recommend!
Rae L.
Great job and great company!
Joanna H.