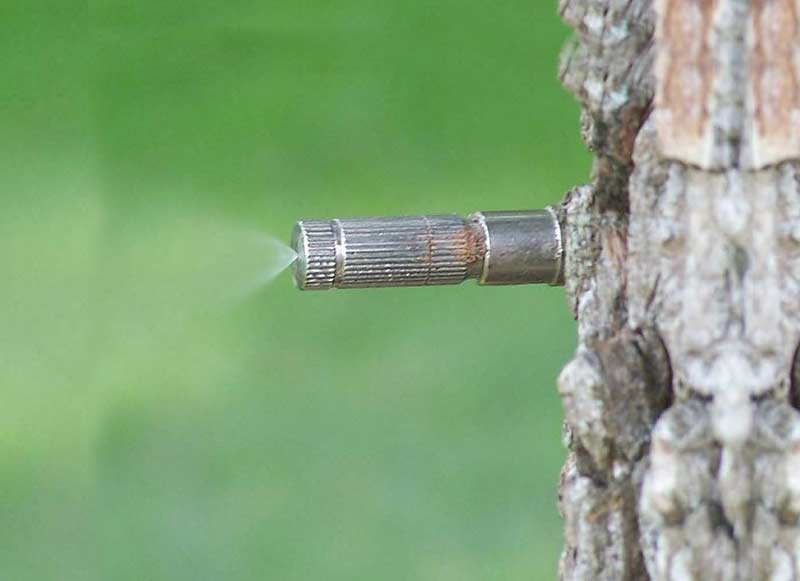 Mosquito misting systems are a great way to rid your property of mosquitoes and other biting insects that can make enjoying your outdoor areas difficult.
The fine mist of pesticide is strong enough to win the war against insects, but gentle enough to protect your plants, pets, and little ones. When this system isn't serviced, you and your loved ones risk becoming the buffet grounds for these insects. Investing in ongoing refill services for your mosquito misting system is a must.
Unique Outdoor Illumination & Mosquito Pros proudly serves Houston and the surrounding areas with all of their mosquito misting needs. Even if we didn't install your mosquito misting system, we still offer refill services, ensuring that your property stays protected. Here is more information about our mosquito misting system refill services:
Mosquito Misting System Refill Services in Houston
Mosquito misting systems have revolutionized the world of mosquito and pest control. With little to no labor on your part, your backyard space can be protected during the summer months, allowing your family and friends to enjoy the beautiful outdoors.
Every mosquito misting system runs off of specially made pesticide that is hard on biting insects such as mosquitoes and horse-flies but gentle enough not to harm your pets. Over time, this pesticide will need to be refilled so your misting system can continue protecting your home and family.
If you need a refill for your mosquito misting system, the dedicated mosquito control experts at Unique Outdoor Illumination & Mosquito Pros can help! We offer professional-grade misting solutions and will refill every mosquito misting system, whether we installed it for you or not.
What Is In Mosquito Misting System Pesticide?
All of our mosquito misting concentrates have natural pyrethrins and synthetic permethrins. Pyrethrins are a botanical extract from chrysanthemum flowers that is naturally effective in killing off irritating insects such as mosquitos. Combined with synthetic permethrin, which has the same effect on biting insects but a longer effect time, your yard stays pest-free without harming your yard.
How Long Does a Misting Refill Last?
The average mosquito misting system will mist about three times a day for about 40 seconds. The standard tank for a mosquito misting system holds about 64 ounces of the insecticide and can last a homeowner about 2-3 months before needing a refill.
When you invest in misting refill services from Unique Outdoor Illumination & Mosquito Pros for your mosquito misting refill, we set you up with our recurring refill program. This takes the guesswork out of when your system needs to be refilled and ensures that there is never a gap in your home's protection.
What Happens If I Move While On the Refill Program?
Thinking about moving? No worries! Unique Outdoor offers a service warranty for all mosquito misting systems that we have serviced, regardless of whether we did the original installation or not. That warranty follows the mosquito misting system, meaning that no matter where you are in the Houston area, you can rest assured that your system is covered.
We understand that some companies may not offer services once a homeowner moves or they may have difficulties getting in contact with the company that did their original installation. Unique Outdoor Illumination & Mosquito Pros is dedicated to safety and providing reliable service to our clients, which is why we work hard to create an ongoing working relationship with each client. You are a valued part of our family, so we offer our refill programs to ensure your family can enjoy the outdoors without those pesky mosquitoes.
Mosquito Misting System Maintenance Services in Houston
Much like your car, HVAC unit, and roof, routine maintenance is extremely important to ensure your mosquito misting system is functioning properly. Much like your car, due to the chemicals and complex construction of the unit, maintaining a mosquito misting system should only be left to trusted professionals, such as your team from Unique Outdoor Illumination & Mosquito Pros. When you invest in maintenance services from our trusted mosquito misting specialists, you can expect the following services:
Clearing debris and residue from the misting nozzles
Checking lines and fittings for leaks
Running diagnostics to ensure the entire system is running properly
Replacing small parts, such as lines, that may be leaking
Mosquito Misting Systems Repairs
When your mosquito misting system goes down due to a clog, a leak in the line, or a faulty nozzle, parts of your yard or your whole yard may go untreated. Your trusted mosquito misting specialists at Unique Outdoor Illumination & Mosquito Pros can help repair your mosquito misting system when it goes down.
Our repairs are swift and are followed up with a diagnostics test to ensure no more issues could take down your system and leave your property unprotected.
Mosquito Protection Is a Phone Call Away
Unique Outdoor Illumination & Mosquito Pros is dedicated to the health and safety of Houston's residential and commercial clients. We protect our community and neighbors by offering around-the-clock state-of-the-art mosquito misting systems installation, repair, maintenance, and refill services. Whether you got your system installed by our team, we are happy to help if it breaks down or you need maintenance. Contact our team today for more information on our services or schedule an appointment.