When it comes to outdoor lighting, selecting the right color temperature is an essential part of your overall outdoor lighting setup. Color temperature describes the look of light emitted by light bulbs, describing whether the light color looks cooler or warmer. Different light colors work best for different situations. They can have a big effect on your outdoor environment—from the efficiency of your security lighting to how welcoming a place feels to guests.
In this blog post, Unique Outdoor Illumination & Mosquito Pros will give you some insight into color temperature and how you can use it in your outdoor lighting.
How is Light Temperature Measured?
Color temperature is measured using the Kelvin (K) on a scale from 1,000 to 10,000. The lower the number, the warmer the color. The higher the number, the cooler the color. Generally, commercial and residential lights will fall between 2,000K and 6,500K.
Color Temperature Range
Please note that you may come across some variation of this scale regarding numbers and naming. This is a general guide to help you get started. For more detailed advice for your specific situation, it's best to reach out to a lighting professional.
2,000K – 3,000K Warm White Light
At this temperature range, you'll get a warm white light. This cozy color is an excellent choice for creating a relaxing atmosphere in places such as outdoor living rooms. It also works great for decorative outdoor lighting. On the lower end of this scale, the light source won't be as bright as other sources and may require additional lighting. An outdoor lighting expert can help you come up with the best arrangement for your needs.
At 2,200K, the light is very warm. This color of light provides a romantic atmosphere. An excellent way to describe this color temperature would be "low-key."
Warm light at 2,700K is a popular selection for outdoor spaces with both businesses and homeowners as it provides a warm and welcoming feel.
3,100K – 4,500K Cool White Light
This temperature range provides a great view of your surroundings with its bright and vibrant color. This makes it a great choice for places where visibility is essential, for example, in places like stairs or the outside of a shed or an outdoor workshop.
4,600K – 6,500K Natural Daylight/Moonlight
This range resembles natural daylight or moonlight. It provides crisp and clear lighting that does an excellent job of showing details. This range of light brings a person's eyes to a particular focus point. It's no wonder that this temperature range is utilized in security lighting. Also, it works great outside of a garage.
What Color Temperatures Should I Use for Outdoor Features?
Different situations will call for different lights. Every situation is unique. Light used incorrectly can bother your eyes or offer poor visibility. For the best results, it's always a good idea to work with a professional. They can help you bring out the best of your property at night. If you're in the Houston area, we can work with you.
Here are some light colors to use in specific circumstances:
Gathering Places
It's a good idea to use warm lighting in spaces that you use to entertain guests. It gives off an inviting mood and helps contribute to a relaxing atmosphere. A warm 2,000K to 3,000k light works excellently in this situation.
Gardens, Plants, and Trees
The goal of this lighting is to showcase your plants, not necessarily encourage plant growth. White light goes great with plants and trees. It provides a natural look at nighttime and can showcase their colors. Try for a 3,000K to 4,000K range to accompany your plant life. When adding lights to your garden, it is a good idea to use LED lights as they do not generate heat like a traditional light and will not burn plants.
Please note: This advice is not intended for greenhouse-type lighting.
Stairs
With stairs, the optimal lighting range is around 3,100K to 4,500K. The most important thing about stair lighting is visibility. You reduce the risk of falling and injuring yourself when you can better see where you are going.
Security Lighting
When dealing with security lighting, functionality takes priority to appearances. The 4,600K to 6,500K range works well for this, as it provides a light that gives the impression of daylight. In addition, it does an excellent job of highlighting details.
Around a Garage
Around a garage, a range of 4,600K to 6,500K works excellently. With a garage, you have cars and people moving in and out. Naturally, you want it to be well-lit and safe and the 4,600K to 6,500K range provides a clear light.
Architectural Elements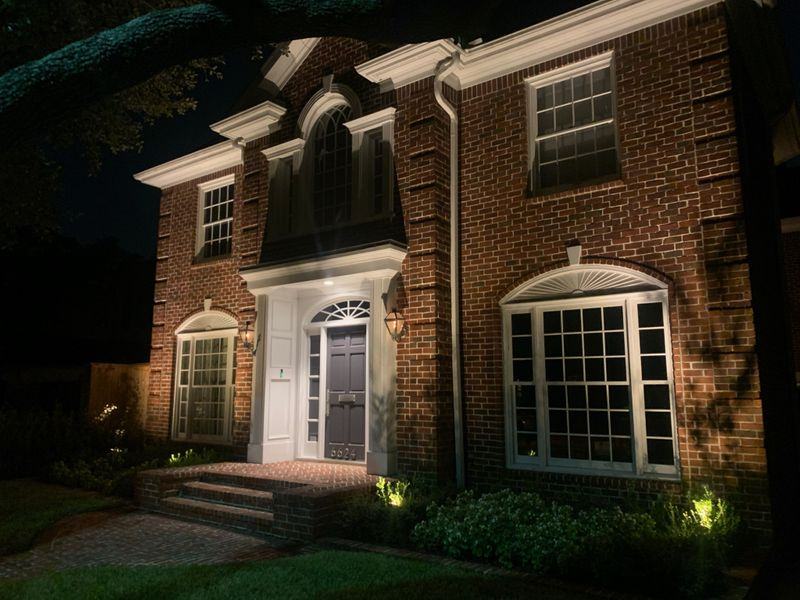 Between 2,500K and 2,700K is a good range for highlighting architectural elements. These elements call for a warmer light that lacks harshness.
Outside of Sheds or Outdoor Workshops
From 3,100K to 4,500K is an excellent range for lights used outside of a shed or an outdoor workshop. This color helps people get a good look at their surroundings—something that's helpful when you are walking to a remote shed late at night!
Outdoor Lighting Design
With all the work that goes into getting outdoor lighting done right, having an expert on your side can make a world of difference. If you are in the Houston, Texas, area, the team at Unique Outdoor Illumination & Mosquito Pros can work with you. Our design process involves a walk-through of the location that requires lights to understand your needs better. Then, we can help you choose the light fixtures and best color temperatures for your property's unique needs.

Contact us for a free quote.