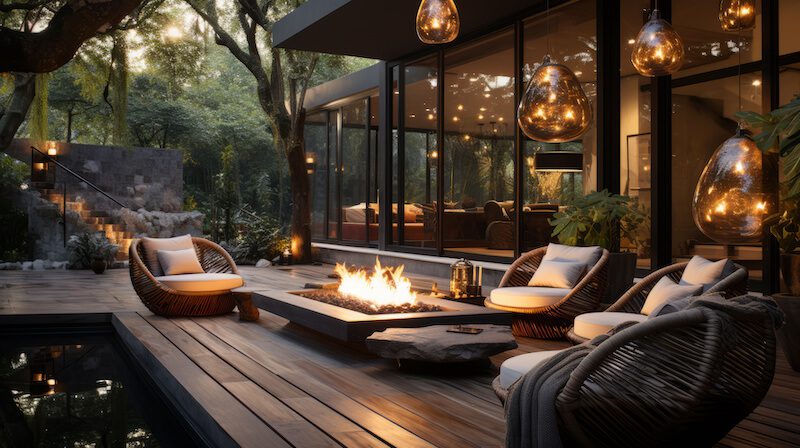 Contact Unique Outdoor in The Woodlands, Texas
Phone:

+1-713-849-3903
| | |
| --- | --- |
| Monday | 7:00 AM - 4:00 PM |
| Tuesday | 7:00 AM - 4:00 PM |
| Wednesday | 7:00 AM - 4:00 PM |
| Thursday | 7:00 AM - 4:00 PM |
| Friday | 6:30 AM - 2:00 PM |
Outdoor Lighting and Mosquito Control in The Woodlands, Texas
Get in Touch with Us
Outdoor Lighting and Mosquito Control Professionals Serving The Woodlands
We are Unique Outdoor, your premier outdoor lighting and mosquito control service provider in The Woodlands, Texas. With over 20 years of experience, we are dedicated to transforming your outdoor space into a safe, pest-free backyard oasis.
Whether you're looking to enhance the ambiance of your backyard, extend your outdoor living hours, or eliminate pesky mosquitos, our outdoor experts in The Woodlands are here to help. Let's explore our Houston area outdoor services and how we can make outdoor living in The Woodlands unique.
Our Outdoor Services in the Houston Area Include:
Houston Outdoor Lighting Services:
Houston Mosquito Control Services:
Houston Synthetic Turf Services:
LED Outdoor Lighting Installers in The Woodlands, Texas
At Unique Outdoor, we specialize in designing, installing, and maintaining outdoor lighting systems that illuminate and enhance the beauty of your property. From accent lighting to pathway and security lighting, we offer a wide range of Kichler outdoor lighting to suit your property's needs. Our LED outdoor lighting professionals are highly trained and use the highest quality materials guaranteed by the manufacturer to ensure the longevity and enjoyment of your outdoor lighting system.
Custom Outdoor Lighting Designs
We offer custom outdoor LED lighting designs tailored to your aesthetic preferences and to complement the landscape architecture of your property. Our outdoor lighting design team will spend time understanding your vision and creating a lighting design that highlights the best features and adds to your space's ambiance. Whether you want to showcase your garden, illuminate your outdoor seating area, or create a warm and inviting atmosphere, we have the expertise to bring your vision to life.
LED Pathway Lights and Garden Lighting
Illuminate your pathways and garden with our stylish and energy-efficient pathway lighting. These lights guide your way and add a touch of elegance to your Houston landscape. With a variety of Kichler lighting designs and finishes available, you can choose the perfect pathway lights that complement the style of your home. Additionally, our LED garden lighting solutions can transform your garden into a magical oasis, highlighting the beauty of your plants and creating a serene atmosphere.
LED Security Lighting for Peace of Mind
Ensure the safety of your property in The Woodlands with our reliable outdoor security lighting solutions. Our expert outdoor lighting technicians will strategically install motion-activated lights and floodlights to deter intruders and provide you with peace of mind. Our high-quality security lighting lets you enjoy your outdoor spaces at night without worrying about potential threats or trips and falls in the dark.
Patio and Pergola Lighting
Extend your outdoor living hours in The Woodlands with our patio and pergola LED lighting options. Whether you're hosting a dinner party or relaxing by the pool, our expertly installed LED outdoor lights will create a warm and inviting atmosphere. Choose from various Kichler outdoor lighting fixtures and styles that suit your taste and enhance the functionality of your outdoor spaces.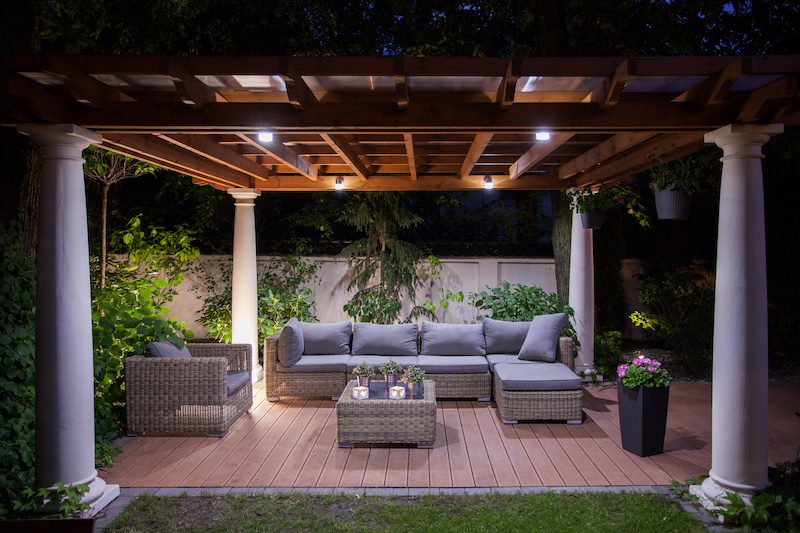 Outdoor Kitchen and Firepit Lighting
Make your outdoor kitchen the focal point of your backyard with our customized outdoor lighting solutions. We understand how essential proper lighting is for outdoor cooking, entertaining, and creating a cozy ambiance. Our outdoor living design team will work closely with you to design and install LED outdoor lighting that illuminates your outdoor kitchen or firepit and enhances the overall aesthetics and safety of your outdoor space.
LED Outdoor Lighting for Energy Efficiency
Our LED outdoor lighting solutions are energy-efficient, long-lasting, and provide excellent illumination for your outdoor spaces. By upgrading to LED outdoor lighting, you can enjoy the benefits of beautiful outdoor lighting while saving on your energy bills.
Outdoor Lighting Maintenance and Repair
We offer professional outdoor lighting maintenance and repair services in The Woodlands, Texas, to ensure your landscape lighting maintains its performance over time. Our team will inspect, clean, and repair any issues with your outdoor lights to keep them functioning at their best. Regular maintenance extends the lifespan of outdoor lights but also enhances their overall effectiveness.
Mosquito Control Services in The Woodlands, Texas
In addition to our outdoor lighting services, we are proud to offer comprehensive mosquito control solutions in The Woodlands, Texas. We understand the nuisance and health risks associated with mosquitos, and our certified applicators have the knowledge and expertise to eliminate these pests from your property.
Mosquito Misting Systems
Our mosquito misting systems are designed to control mosquitos and provide long-lasting relief effectively to The Woodlands community. These mosquito repellant systems release a fine mist of mosquito repellent at specific intervals, creating a protective barrier around your property. Our team will install and maintain the mosquito misting system, ensuring it operates efficiently throughout the mosquito season, which can often be longer in The Woodlands.
Monthly Mosquito Fogging in The Woodlands
For ongoing mosquito control in The Woodlands, we offer monthly fogging services. Our experts will visit your property regularly to fog the area, targeting mosquito breeding grounds and reducing their population. This proactive approach ensures that your outdoor spaces remain mosquito-free, allowing you to enjoy outdoor activities in your backyard in The Woodlands without the annoyance of mosquito bites.
Mosquito Misting System Maintenance and Repair
If you already have a mosquito misting system installed at your home in The Woodlands, we can service most equipment and keep it functioning at its best. Our certified technicians will inspect and repair any issues with your system, ensuring it continues effectively controlling mosquitos. We also offer refill services for mosquito misting systems, so you never have to worry about running out of repellent.
Call Now to Get a FREE Mosquito Misting System Estimate
Synthetic Turf Installation in The Woodlands, Texas
For homeowners and businesses looking for a low-maintenance and beautiful alternative to natural grass, we offer synthetic turf installation services in The Woodlands, Texas. Artificial turf provides a lush, green lawn that requires minimal upkeep and stays pristine all year round.
We will manage your synthetic turf installation, from site preparation to laying the turf and ensuring proper drainage. We use the highest quality synthetic turf materials that are designed to withstand the Texas climate and provide a realistic, natural appearance. With our professional astroturf installation services, you can enjoy a beautiful, hassle-free lawn all year round.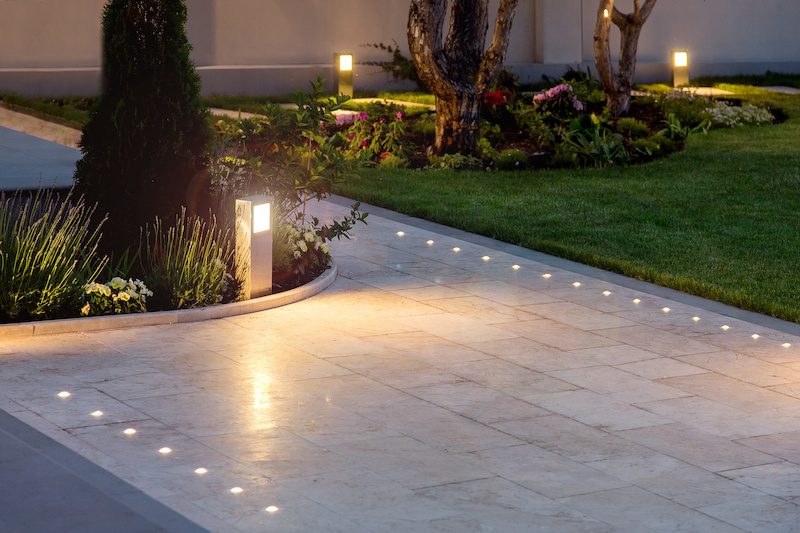 Your Trusted Outdoor Lighting and Mosquito Control Experts in The Woodlands
At Unique Outdoor, we take pride in serving the residents of The Woodlands, Texas, and the surrounding Houston areas. Our mission is to provide dependable, high-quality outdoor lighting and mosquito control services that enhance your outdoor living experience. With our experience, expertise, and customer service, we have built a strong reputation as a trusted provider of outdoor solutions in The Woodlands and throughout Houston.
Contact us today for a free quote, and let us transform your outdoor spaces into a sanctuary of beauty, safety, and pest-free enjoyment. We look forward to serving you in The Woodlands!
Frequently Asked Questions
Q: How does outdoor lighting enhance my Houston property?
A: Outdoor lighting adds beauty and ambiance to your property and increases safety and security. It illuminates pathways, highlights architectural features, and creates a warm and inviting atmosphere for outdoor activities.
Q: Are LED lights more energy-efficient?
A: Yes, LED lights are more energy-efficient than traditional incandescent ones. They consume less electricity, have a longer lifespan, and produce less heat, making them an eco-friendly lighting choice.
Q: How long does a mosquito misting system last?
A: A mosquito misting system can last many years with proper maintenance and regular refills. Our team will ensure your system is well-maintained and fully operational throughout the mosquito season.
Q: Can synthetic turf withstand extreme Houston weather conditions?
A: Yes, synthetic turf is designed to withstand extreme Texas weather conditions, including the heat and humidity of summers in The Woodlands. It is UV-resistant, fade-resistant, and durable, providing a lush, green lawn all year round.
Q: How often should I schedule mosquito fogging services in The Woodlands?
A: We recommend scheduling monthly mosquito fogging services to effectively control the mosquito population to residents and businesses in The Woodlands. This proactive approach ensures ongoing protection and eliminates potential breeding grounds.
The Woodlands, Texas: A Beautiful and Vibrant Community
The Woodlands, Texas, is a thriving community located just north of Houston. Known for its picturesque landscapes, vibrant neighborhoods, and top-notch amenities, The Woodlands offers a high quality of life for its residents. Here are some interesting facts about this beautiful community:
Outdoor Recreation: The Woodlands is home to numerous parks, nature trails, and golf courses, providing ample opportunities for outdoor activities and leisure. Residents can enjoy hiking, biking, fishing, and boating in the scenic surroundings.
Master-Planned Community: The Woodlands is a master-planned community designed with a focus on sustainability, green spaces, and a strong sense of community. The community features a variety of residential neighborhoods, commercial centers, and entertainment venues.
Cultural Events: The Woodlands hosts cultural events and festivals, including concerts, art shows, and holiday celebrations. The Cynthia Woods Mitchell Pavilion is a favorite venue for live performances.
Education: The Woodlands is served by the Conroe Independent School District, offering excellent educational opportunities for students of all ages. The community is also home to Lone Star College, providing higher education options for residents.
Shopping and Dining: The Woodlands boasts a unique shopping and dining scene, with many boutiques and restaurants to explore. The Woodlands Mall and Market Street are popular destinations for shopping and entertainment.
Community Spirit: The Woodlands is known for its strong sense of community and active resident participation. The community hosts regular events and activities, fostering a close-knit and welcoming environment for all.
Contact Us for Outdoor Lighting and Mosquito Control Services in The Woodlands
If you're looking for professional outdoor lighting and mosquito control services in The Woodlands, Texas, look no further than Unique Outdoor. We are committed to providing exceptional outdoor living service, reliable solutions, and creating outdoor spaces that you can truly enjoy. Contact us today for a free quote, and let us help you transform your Houston outdoor living experience.
Testimonials
"The mosquito misty system works great." - Alex C.
"We have known the company owner for years. He is a person who works hard and smart and is somebody you can count on." - Mark K.
"I have used Unique Outdoors for the past 2 years and have been pleased with their service and employees. The quality and cost of service is excellent." - P Max H.
"Great job and great company!" - Joanna H.
Read more reviews here https://www.uniqueoutdoortx.com/reviews/.