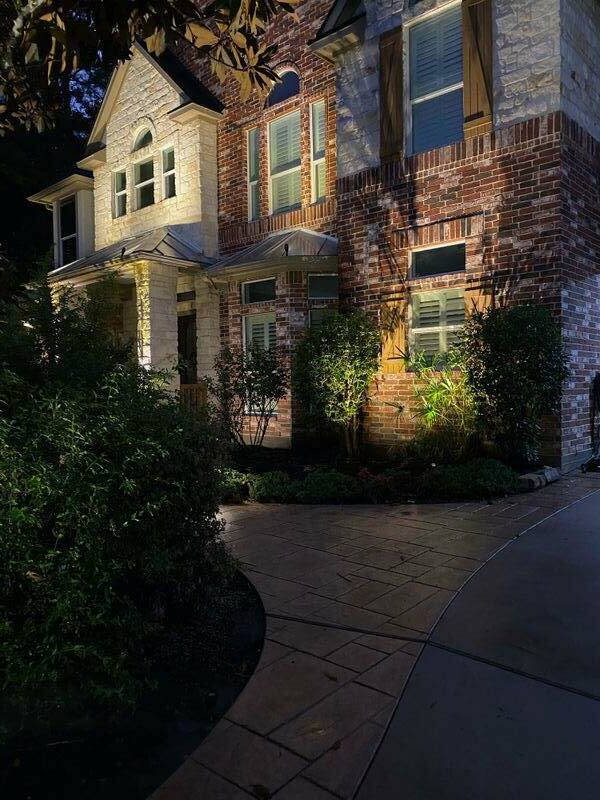 Landscape Lighting Installation Services
Unique Outdoor Illumination & Mosquito Pros has become well-known in the community for our unparalleled outdoor lighting design, installation, and customer service. We take the time to understand your vision while implementing techniques to make your property safer at night. From outdoor kitchen lighting to security lighting, you can trust that our installation team will make your vision a reality.
Unique Outdoor Illumination & Mosquito Pros is proud to serve the residents of Houston, Texas, and the surrounding areas with all their outdoor lighting installation needs. Our expertise allows us to enhance the natural beauty of your outdoor living space without blinding your guests or washing out the surrounding landscape.
Here is more information on our outdoor lighting installation services.
Outdoor Lighting Installation Options
Outdoor lighting is essential for creating a safe and relaxing environment to come home after a long day. Our team offers a wide variety of outdoor lighting installation services such as:
Poolside Lighting Installation: Increase the safety and beauty of your pool's deck or patio by installing gorgeous LED poolside lights. Read by the relaxing water while your loved ones swim.
Patio and Deck Lighting Installation: Install captivating patio lights on your deck or patio to make each evening enjoyable as you watch the sunset. Elevate the atmosphere on your patio by installing lighting in key areas, such as on your home's exterior to show off the beauty of the architecture, or around the sitting area to create a special place to unwind and have intimate conversations with your loved ones.
Garden Lighting Installation: Show off the natural beauty of your plants by adding some garden lighting. Highlight the the majesty of a fountain or the unique colors of your flowers. Have your guests stroll through your garden at night without the fear of tripping over roots and other obstacles in the path or stepping in your flowers.
Landscape Lighting Installation: Our team has a wide range of options to help you enhance the beauty of your home's yard. Display the lush, green grass you have spent so much time and effort caring for. Show off your home's unique tree or stone retaining wall by chasing away shadows from hard-to-see places.
Security Lighting Installation: Safety is one of the biggest concerns that every homeowner has. Outdoor security lighting deters potential intruders by removing shadows in hard-to-see areas, making intruders feel exposed. Security lighting also allows your neighbors to spot the first sign of trouble, giving them time to notify the authorities or yourself before the situation escalates. We can install motion detectors for your lights that turn on during any sign of movement, confusing and startling potential thieves, and making them flee before they ever reach your home.
What Is Involved in Outdoor Lighting Installation?
There are several dangers to installing outdoor lighting that should not be handled as a DIY project. Trying to complete tasks such as wiring and installing a transformer without the proper knowledge increases the risk of electrocution. Our team is trained and certified to handle the following services:
Installing Receptacles with GFCI Protection
Wiring Outdoor Lights
Installing an Outdoor Transformer
Turn Your Houston, TX Outdoor Living Space Into a Piece of Functional Art
The team at Unique Outdoor Illumination & Mosquito Pros. is more than happy to help you with your outdoor lighting installation. We work with you to bring your vision of your outdoor landscape to life. Whether you are looking to install security lighting to boost the safety of your property or patio lighting to create the perfect reading spot, our team can make it happen. Contact us today for more information on our services or to schedule a complimentary consultation.