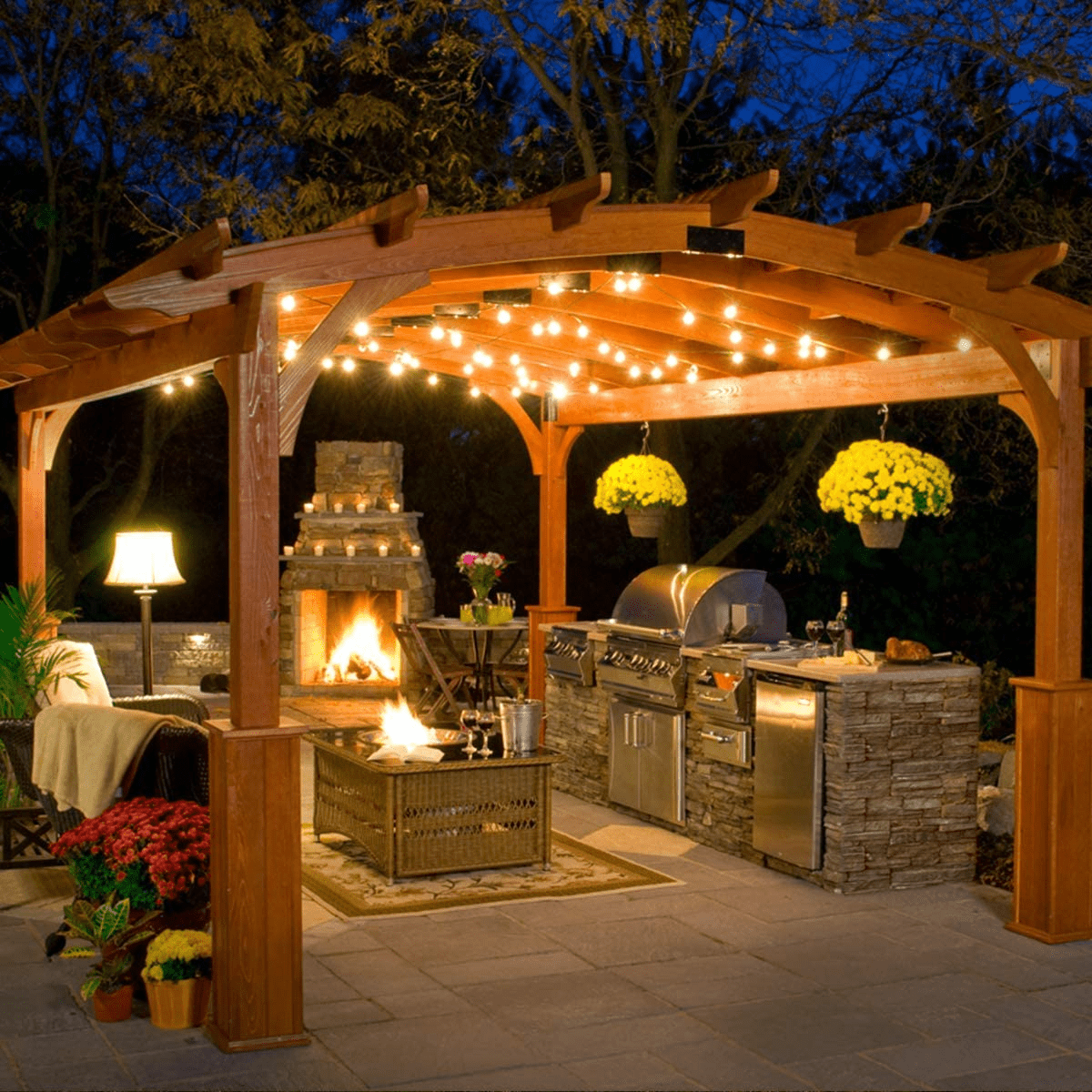 Outdoor Kitchen Lighting Ideas
An outdoor kitchen is a great investment for any home's backyard. It not only adds extra living space to your home but also provides a gorgeous ambiance to enjoy your favorite meal with family and friends. Even during the cooler weeks of winter, having an outdoor kitchen to entertain yourself can help turn the bleak atmosphere into one that provides hope and excitement for the coming spring. No matter what time of the year, an outdoor kitchen is a perfect place to entertain family and friends.
One of the most important parts of your outdoor kitchen is outdoor lighting. It is essential to have good lighting for not only your guests' safety but also your cook's, to avoid a nasty accident with either a hot grill or cutting up vegetables.
Outdoor kitchen lighting can also be used to elevate the aesthetic appeal of the space. Use it to show off your gorgeous countertops, and the stonework of your outdoor bar, or use creative fixtures to transform the space and provide ambiance.
Unique Outdoor Illumination & Mosquito Pros works hard to combine functionality with beauty for our outdoor kitchen lighting designs. We know the importance of kitchen lighting and the large responsibility it carries in keeping your family and guests safe. We use only high-quality LED outdoor lighting fixtures in our designs. Here is more information on our outdoor kitchen lighting services.
Combing Beauty With Functionality in Outdoor Kitchen Lighting Design
Unique Outdoor Illumination & Mosquito Pros understands the importance of creating a gorgeous yet safe space for your cooking area. Kitchen lighting should be designed to help you prepare and cook the perfect meal by increasing the visibility of your workspace. This helps reduce the risk of accidents, such as cuts and burns, and burning food, and helps you see potential risks before disaster strikes.
Outdoor Kitchen Lighting Design Process
Our process starts with a consultation. During the consultation, we get a clear understanding of what you are looking for in your outdoor kitchen lighting. We inspect the area that we are designing for. This gives us a thorough understanding of where the darkest parts of your outdoor kitchen area are, which elements need to be lit, and any other obstacles that may have been overlooked during the consultation.
Next, we will give our findings to our design team, who will use your recommendations and the recommendations of our outdoor lighting experts to create a design that combines beauty with functionality. The design is then sent to you for approval. Once we have your approval on the design, our installation team goes in and installs the fixtures and ensures all of the electrical components are set up properly.
What Types of Lighting Should I Use In My Outdoor Kitchen?
When it comes to outdoor kitchen lighting, there are many different types of lighting fixtures you can choose from. However, there is some essential lighting that needs to be in place to create a safe space for you and your guests. Here is what our team recommends:
Pathway Lighting: Pathway lighting is essential for keeping your family and guests safe as they travel from one outdoor element to another. It highlights potential tripping hazards and elevation changes on the path they are walking on. It defines borders for flower beds or other areas where you do not want your guests to be walking.
Stair or Step Lights: If your outdoor kitchen has small steps to or from the space, you will want stair or step lights to define each step. This significantly reduces the risk of falling while also showing off the beauty of the material used to make your steps or stairs.
Multi-Tasking Outdoor Lighting Fixtures: Multi-tasking lighting fixtures are a term to describe lighting elements that can double as something else. For example, a ceiling fan with light can provide a cool breeze to keep the space more comfortable and deter mosquitoes and flies, all while keeping the space well-lit for the safety of your guests.
Accent Lights: Accent lights can help elevate the atmosphere of the space by bringing attention to unique elements of your outdoor area. For example, using accent lights for an outdoor bar area can bring attention to the gorgeous material used to make the bar while making it easier for those sitting there to see their drinks. Accent lights attached to the underside of the bar can help highlight the bar stools, allowing individuals to safely find their seats.
Task Lighting: Task lighting is lighting that is designed in a particular area for the completion of a task. These lights are not necessarily focused on aesthetics but more on safety. They are essential for lighting food prep areas, grills, or other outdoor cooking appliances.
Transform Your Outdoor Kitchen With Gorgeous Outdoor Lighting
Don't let another summer go by without being able to use your outdoor kitchen to host that dinner party you have always dreamed of. Instead, contact Unique Outdoor Illumination & Mosquito Pros for a free consultation to discuss how you can elevate your outdoor kitchen space. Our team is happy to create a design that fits your aesthetic while keeping your guests and family safe.