As with all areas of your home, your outdoor lighting needs to be serviced and maintained to ensure the safety and functionality of its operation. Texas's harsh summers, powerful storms, sudden frigid temperatures during the late winter, and occasional heavy snowfall can wear your outdoor lights over time. While they were built for the elements, continuous strain can cause your outdoor lighting to fail or dim.
Thankfully, the dedicated team of outdoor lighting specialists at Unique Outdoor Illumination & Mosquito Pros offers unparalleled outdoor lighting maintenance and repair services. We can inspect your outdoor lighting system, locate potential issues, and solve them before they become catastrophic problems. We also do other maintenance tasks, such as burying exposed wires, changing bulbs, retrofitting older systems if needed, and ensuring every fixture looks its best. Learn more about these services:
Landscape Lighting Maintenance in Houston, Texas
Unique Outdoor Illumination & Mosquito Pros offers comprehensive outdoor lighting maintenance and repairs to ensure that your landscape lighting operates as it should all year.
How Often Should I Invest In Outdoor Lighting Maintenance?
Outdoor lighting is an important part of your home's security, helps increase your home's curb appeal, and creates the atmosphere for your outdoor living spaces. Outdoor lighting maintenance should be performed once every three years. Doing this keeps your property safer at night by shining lights on hard-to-see areas and improves your outdoor lighting's performance, helping save on energy costs. When Unique Outdoor Illumination & Mosquito Pros performs maintenance, we will:
Change out burnt-out bulbs.
Replace all sockets.
Check the voltage of the individual lights to ensure safety.
Re-bury any exposed lines.
Clean all lenses.
Adjust the positioning of the light fixtures if needed.
Clean up overgrowth of foliage that may block or interfere with your outdoor lights.
Reset timers.
What Is Outdoor Lighting Retrofitting?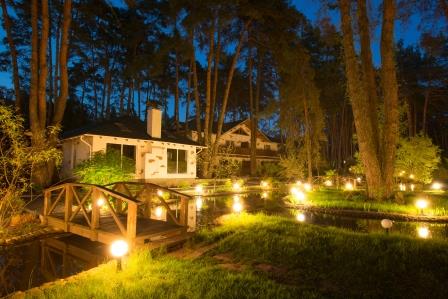 LED outdoor lighting is becoming the new standard across the Houston area. Unlike other outdoor lighting types, such as incandescent and halogen, these lights promote energy efficiency, are environmentally friendly, and have a much longer lifespan.
Our team can retrofit, or update, your lighting system by replacing outdated halogen bulbs with better and more energy-efficient LEDs. Retrofitting allows you to preserve your current fixtures, keeping the look and style you fell in love with while helping the environment and your wallet.
Keep Your Houston-Area Outdoor Lighting Running Strong
Unique Outdoor Illumination & Mosquito Pros proudly provides the homeowners of Houston, Texas with all their outdoor lighting needs. We offer only the highest quality LED lighting solutions in the industry to create a unique outdoor lighting design that is catered to your home's specific needs. Contact our outdoor lighting and design team today for more information on our outdoor lighting design services or schedule an appointment.