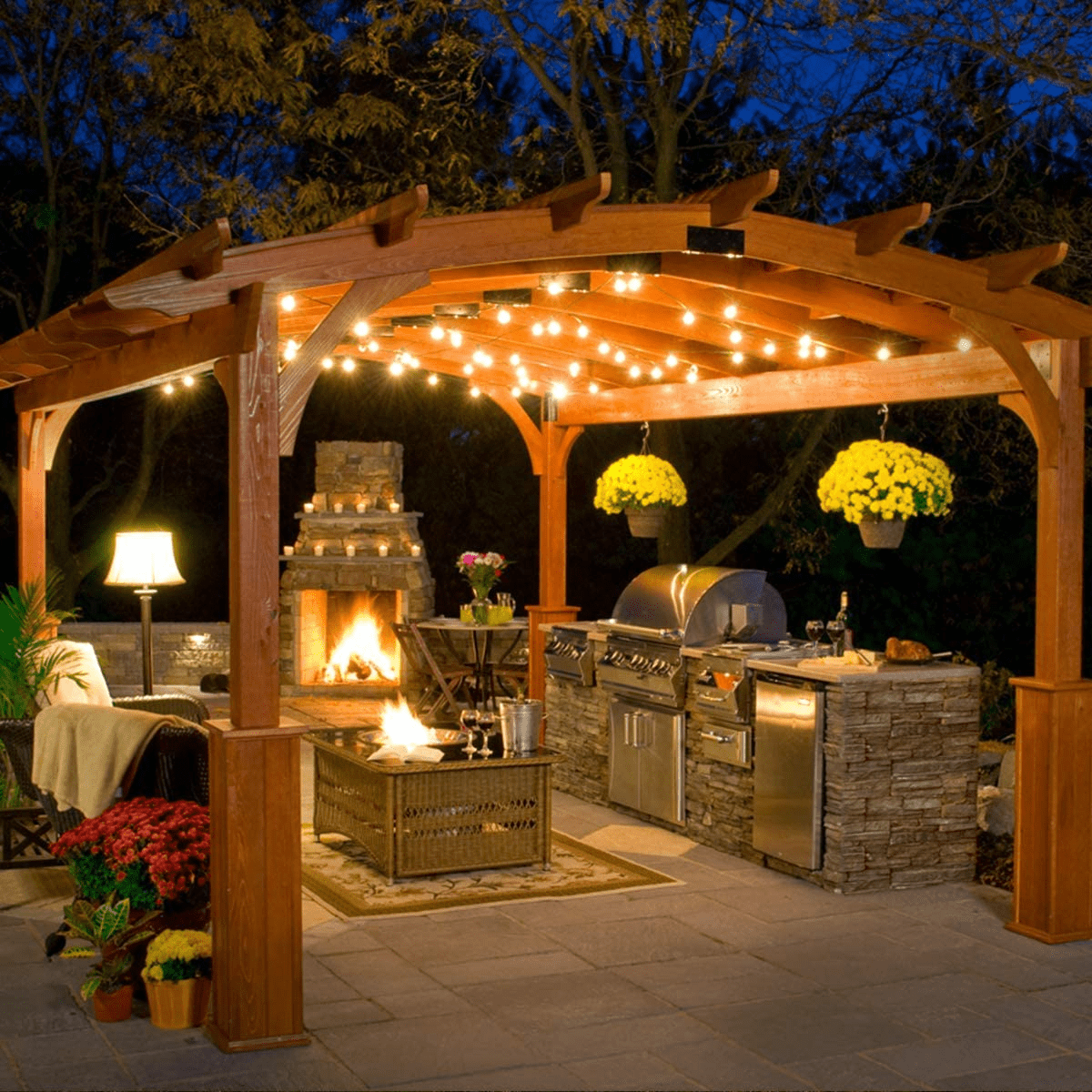 Pergola, Arbor, Patio Cover, Gazebo, and Pavilion Lighting Services in Houston, Texas
Texas is well known for its bright sunshine and hot summer temperatures, as well as the occasional downpour that comes seemingly out of nowhere. Pergolas, arbors, gazebos, and other outdoor structures provide backyard living spaces with shelter from the elements, giving individuals a place to sit down, relax, and enjoy the majesty of mother nature. During the night time, however, the shade and shelter they provide darkens these areas, increasing the risk of slip-and-fall accidents and turning the atmosphere from calming to unsettling.
Thankfully, the dedicated outdoor lighting team at Unique Outdoor Illumination & Mosquito Pros has a solution! Outdoor pergola lighting will not only brighten up your space, making it safer, but it also creates the perfect spot to unwind after a long day at work. Here is more information about our pergola lighting services.
Low Voltage Pergola Lighting
Low-voltage outdoor lighting can help homeowners make their living space safer and aesthetically pleasing without causing hefty energy bills. Unique Outdoor Illumination & Mosquito Pros offer our clients only the highest quality low voltage LED lighting solutions. We do this to ensure that your outdoor living space is safe when the sun goes down without costing an arm and a leg.
We'll help you design the perfect low-voltage pergola lighting to compliment your outdoor space, creating a charming atmosphere ideal for a late-night read, quiet conversation with a friend, or romantic evening with your loved one. We offer low-voltage lighting solutions for pergolas, arbors, covered patios, pavilions, and gazebos.
Pergola and Arbor Lighting Solutions
Pergolas and arbors are slatted structures that help break up the sun's rays, creating a cooler space to relax during the summer. Lighting these structures helps brighten your yard at night, elevating the atmosphere and increasing security.
Our team can help you find the perfect lighting design. Whether you want subtle lighting to keep attention on your garden or you highlight your pergola or arbor through a more striking design, we have the solutions for you.
Patio Covers and Pavilion Lighting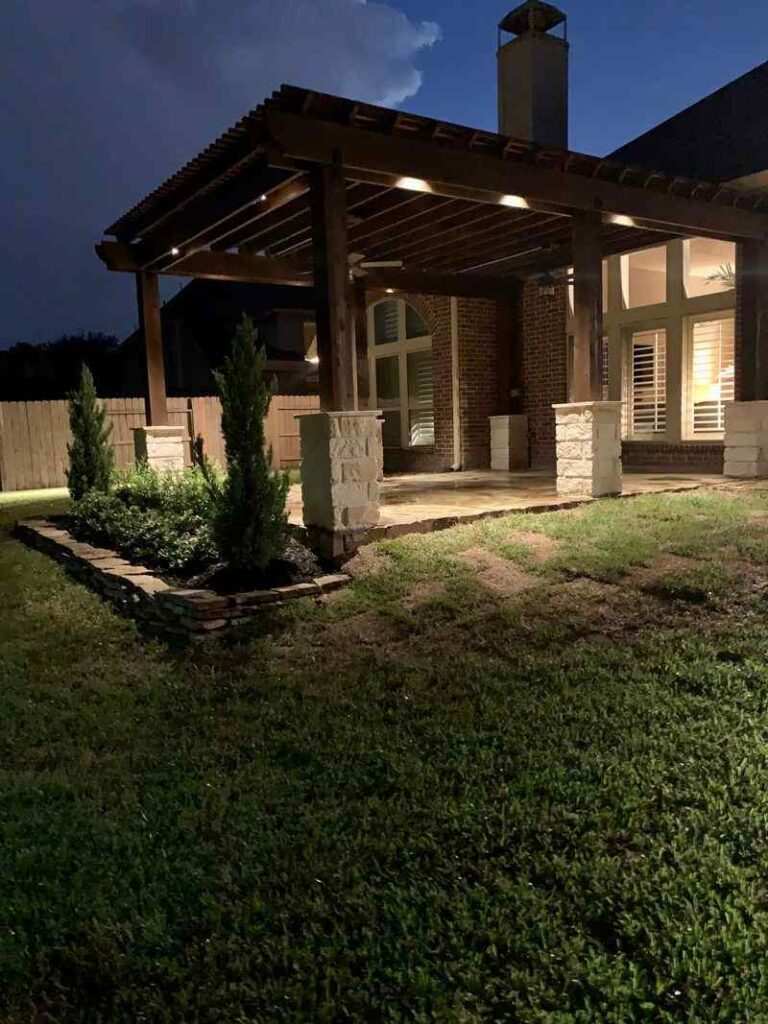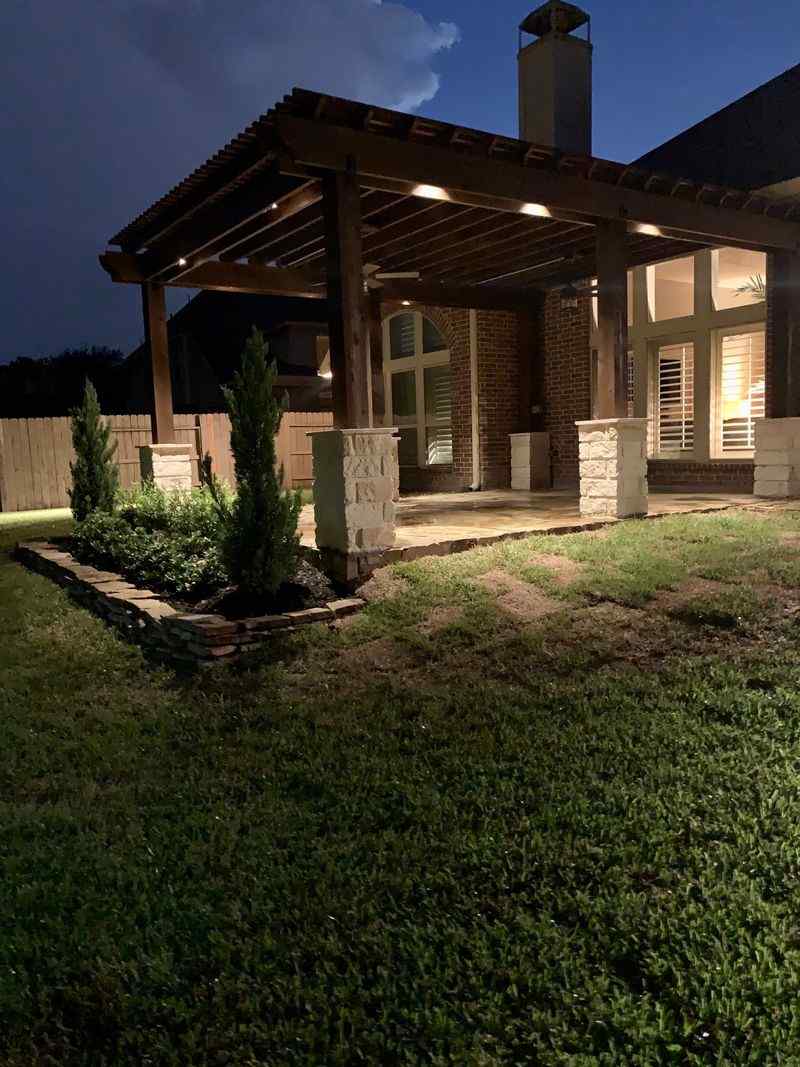 Patio covers and pavilions provide outdoor living spaces that are protected from the heat and rain. These sturdier structures block out most of the sunlight and offer a safe haven for relaxation. They also protect furniture underneath these structures from the elements.
Adding a patio cover or pavilion to your outdoor living space can also make them darker as they block out the moonlight. Make sure you and your guests can see by lighting them up with Unique Outdoor Illumination & Mosquito Pros' patio cover and pavilion lighting solutions.
Gazebo Lighting
Gazebos are gorgeous outdoor structures that provide a safe space for individuals to get out of the rain or sun. These structures are often free-standing and associated with gardens and plants. If you are looking to install outdoor lighting to illuminate the beauty of your gazebo during the nighttime, our team can help!
Our gazebo lighting designs are specially crafted to meet the needs of your outdoor living space. Whether that means subtly illuminating your gazebo or crafting a bold design, we can make your vision a reality.
Houston's Go-To Source for Outdoor Lighting & Design
Unique Outdoor Illumination & Mosquito Pros will ensure your outdoor living space looks good and feels safe. We have years of experience when it comes to outdoor lighting and design. Combine this with our ability to help keep mosquitoes at bay, and you not only have a well-lit property, but you can also enjoy your evenings without the threat of that itchy bite. Contact our team today for more information on our pergola lighting services or to schedule an appointment with one of our outdoor lighting designers.