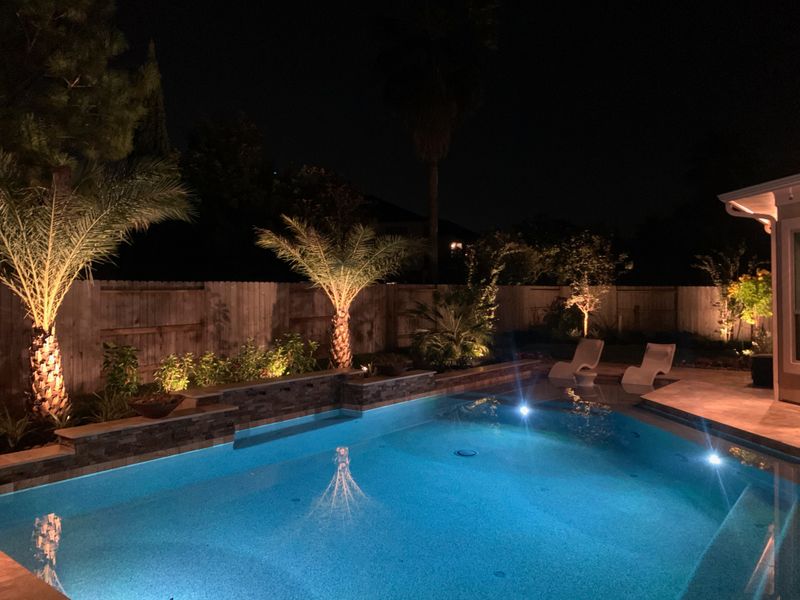 Texas is known for its moderate temperatures throughout the year. Because of this, many pool owners keep their pool open all year long as the weather generally stays pretty even. That said, even during the hot summer months, individuals may not have time to enjoy their outdoor oasis during the daytime as other responsibilities call them from their homes. Instead, they prefer to swim during the evening, allowing the day's stress to float away. However, without proper pool deck lighting, your dream nighttime swim can quickly become a nightmare.
Unique Outdoor Illumination & Mosquito Pros is proud to offer gorgeous poolside lighting solutions that elevate the atmosphere and safety of your pool. We have a wide range of lighting solutions to fit your every need and desire. Working closely with our clients, we help create a poolside lighting design that catches the eye and fits your pool's chosen aesthetic. Your pool will both look stunning and keep your swimmers safe.
Pool Deck Lighting Ideas in Houston, Texas
Many individuals don't just enjoy the swim, but they also enjoy the intimacy of conversation by the poolside. With the comforting sound of the water and the gorgeous views of the light being reflected off your pool, poolside lighting allows you to make the most of your poolside deck. With pool deck lighting, you can enjoy your pool deck no matter what time of day it is. Have an evening BBQ underneath the stars or a nice conversation over some drinks – it's all safely possible with pool deck lighting.
Pool deck lighting also ensures that the area around your pool is safer. Pool decks are naturally slick due to splashed water, and sometimes the shadows can make the pool's edges hard to see. Proper lighting will highlight these areas, keeping your family and guests from accidentally slipping or falling into the pool. It also helps you keep a closer eye on swimmers in case there is any trouble, and someone needs help, such as a child who may not be the strongest swimmer.
Exterior Lighting Around Pool Deck and Beyond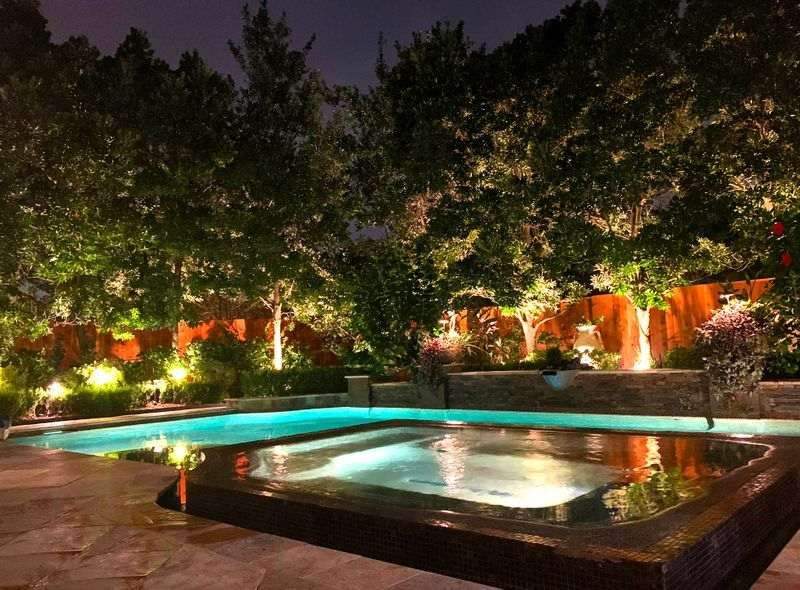 Poolside lighting doesn't just refer to your pool deck – lighting up other areas around your pool is just as important. This can include lighting up nearby gardens or trees, ensuring that the beauty around your pool can be seen at all hours of the day. This is also important for pathways that lead from your pool to other areas of your outdoor living space. Pathways need to be lit so guests and family members can safely navigate from one space to another.
LED poolside lighting is the best for this, as it doesn't give off much heat, saves energy, and provides strength and durability for outdoor conditions. LED lighting is strong enough to handle Houston, Texas's intense summer heat and the wet conditions around your pool.
Professional Pool Lighting Services in Houston, Texas
Unique Outdoor Illumination & Mosquito Pros are proud to offer poolside lighting services to the homeowners of Houston, Texas. We work with every one of our clients to bring a unique and personalized poolside lighting design that matches your dreams for your outdoor living space. We offer the highest quality LED outdoor lighting solutions. Contact our team today for more information or to schedule a consultation with our design team.