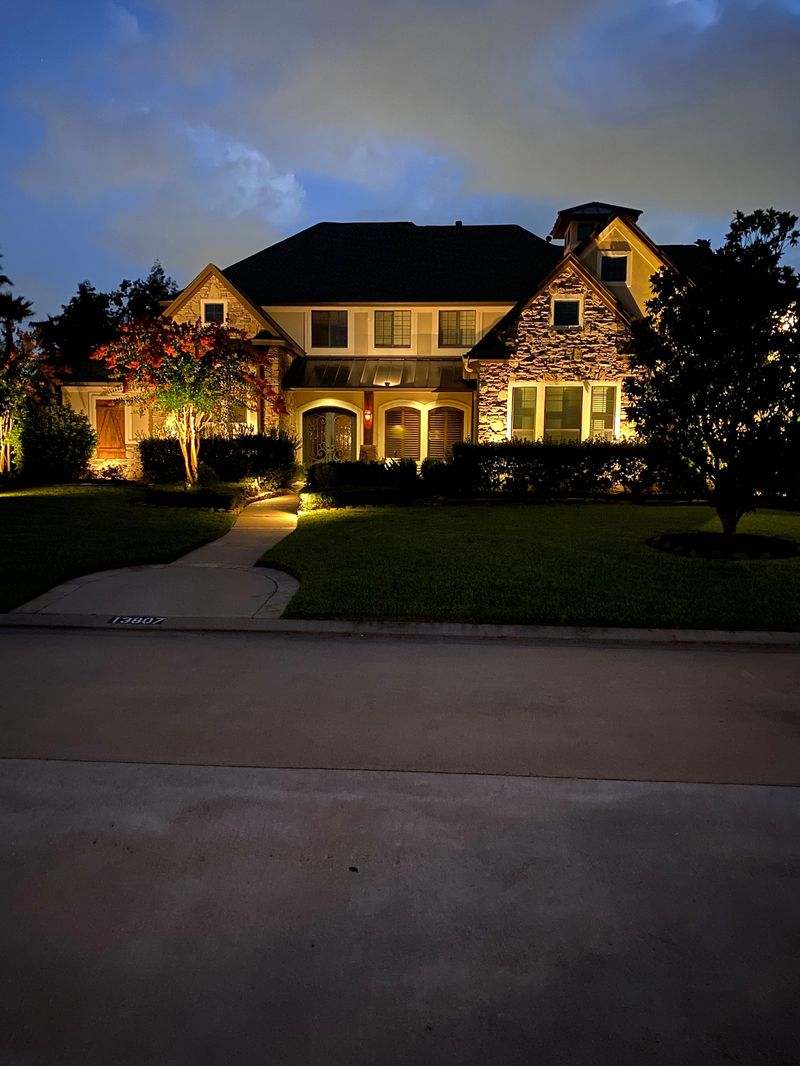 Outdoor Security Lighting Design & Installation
Most individuals sleep better at night knowing that their home is secure. Locked doors, shut windows, a closed garage—all of these things give people peace of mind. However, while these things help make it harder to get into your home, they don't usually deter burglars. Outdoor lighting, on the other hand, does.
Installing security lighting at your Houston home will help protect it from intruders and lessen the risk of trip-and-fall accidents. But many homeowners worry installing security lighting will detract from the aesthetic of their home. Rest assured—the trusted outdoor lighting team at Unique Outdoor Illumination & Mosquito Pros provides immaculate outdoor lighting design and installation services, ensuring your property is protected and looking its best. Keep reading to learn more about your outdoor security lighting options.
LED Security Lighting for Houston Homes and Businesses
Unique Outdoor Illumination & Mosquito Pros uses only the highest-quality LED security lighting fixtures to brighten up the outside of your home in an energy- and cost-efficient manner. For homeowners with children or pets, LED lights offer a safer solution as they remain cool during operation, reducing the risk of burns. This makes them perfect for installing gardens and other outdoor plants like trees.
LED security lighting comes in a wide variety of styles and types, including but not limited to the following:
Motion-Activated Lights: An energy-efficient solution, these lights only turn on when the motion sensor captures motion. Intruders will be caught off guard, making them think twice before approaching your home.
Timed Security Lighting: Timed security lighting deters intruders and provides directional light at night. Plus, you can easily adjust the hours of operation through the main control panel.
Floodlights: Floodlights brighten up hard-to-see areas by throwing a blanket of light over your landscape.
High-Intensity Discharge (HID) Security Lights: Intended for commercial buildings, these commercial-grade lights provide enough light to cover large areas such as a ranch, field, or parking lot.
Exterior Soffit Lights: Installed in the overhang that sits in front of your home's entrance, soffit lights' soft lighting illuminates your front porch, allowing individuals to better see the entrance of your home.
Outdoor Path Lights: Path lighting can be installed on pathways, stairs, and driveways to provide light where people walk. This brings attention to any tripping hazards or changes of elevation.
Benefits of Outdoor Security Lighting
Installing outdoor security lights offers a plethora of benefits for your Houston home. These include:
Deterring intruders by removing dark areas where they can hide.
Giving the illusion that someone is home through timed and motion-activated lights.
Increasing safety by lighting up uneven ground, bringing attention to tripping hazards, and showing what paths to stick to.
Giving you and your family a sounder peace of mind.
Professional Outdoor Security Lighting in Houston, Texas
If you want to secure your residential and commercial property with outdoor security lighting, the experts at Unique Outdoor Illumination & Mosquito Pros are here to help. We offer high-quality outdoor security lighting design and installation services, ensuring that it complements and protects your home. Contact us today for more information on our outdoor lighting services or to schedule a consultation.