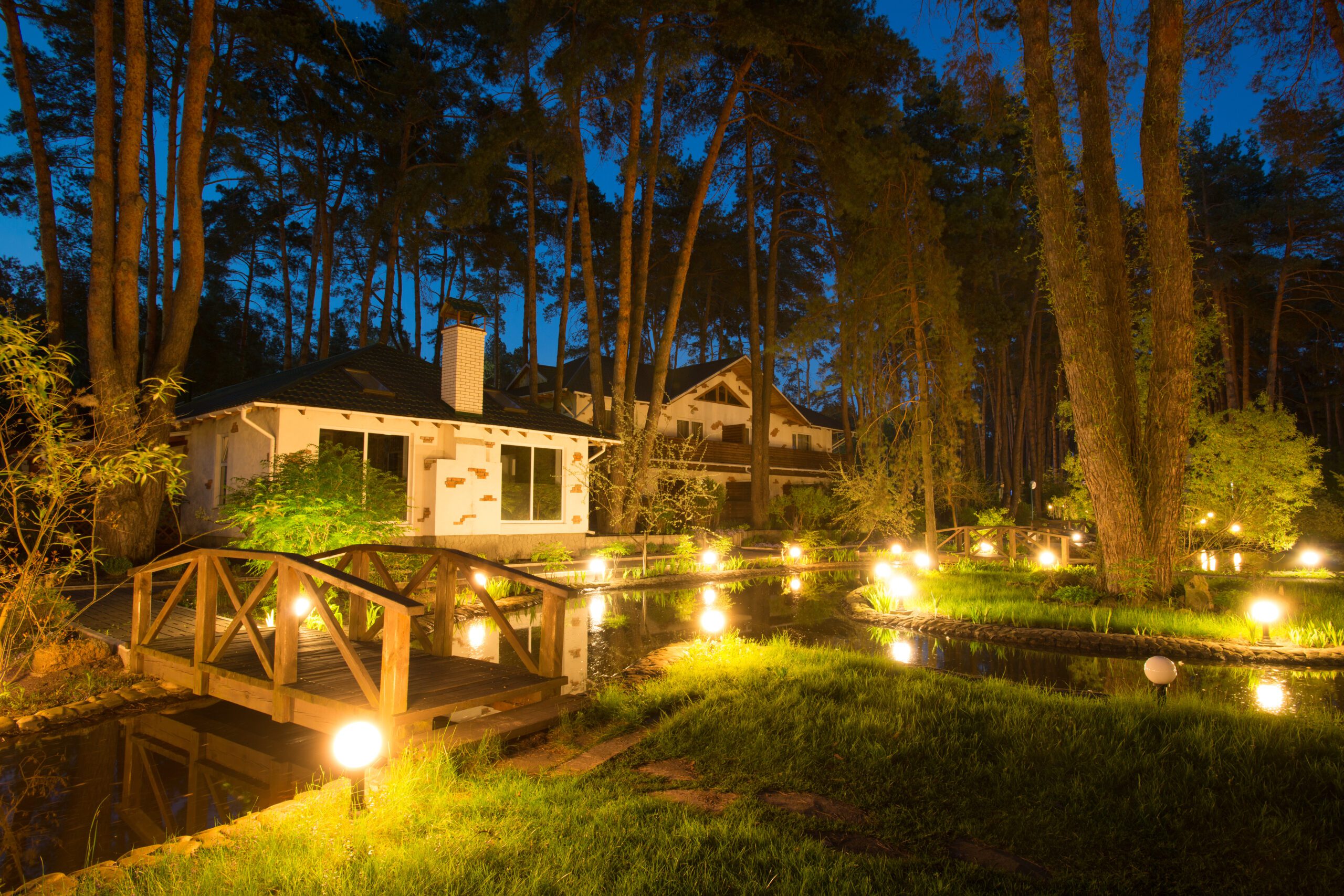 Pathway Lighting Design and Installation
Many Houston homeowners and business owners spend a lot of time, energy, and resources ensuring their landscaping looks amazing. As the outside of your home or business is the first impression your guests or customers get, it isn't without good reason. However, one area often overlooked is the need for beautiful path lighting to complement and blend seamlessly into your landscaping.
Path lighting isn't just about helping to highlight the beauty of your home, business, or garden but also about improving the safety of these areas. At night, tripping hazards can be harder to see, creating a dangerous environment for foot traffic and increasing the risk of an accident. Not only does this increased risk pose a safety risk to the physical well-being of guests but it also puts you at risk of having a lawsuit filed against you for damages and medical expenses should an accident occur. Outdoor path lighting is the perfect way to minimize the risk of injury while ensuring that individuals can enjoy the beauty of the atmosphere you created.
When installing gorgeous pathway lighting in the Houston area, no one does it better than the Unique Outdoor Illumination & Mosquito Pros team. Our lighting experts know what it takes to create gorgeous pathway lighting that complements the beauty of your garden or pathways without washing it out. We have a keen eye for detail, stringent quality standards, and a passion for transforming your outdoor landscape with gorgeous outdoor lighting. This has helped our professional technicians become the leading team for outdoor lighting in the Houston area. Here is more information about our path lighting services.
LED Low Voltage Path Lighting
LED path lighting has many benefits that can help your home or business create a magnificent outdoor living environment but also help you save money. LED lights are known for their energy efficiency and impressive lifespan. Most LED lights can last up to ten years before needing to be replaced, meaning you will not have to worry about spending as much money or time replacing dead bulbs.
LED path lighting also produces less heat than incandescent bulbs, which are safer to use around plants. This makes them ideal for garden lighting, as they can highlight your gorgeous flower beds without harming the plants. Their low heat also makes them more versatile in design options, as they can also be installed near seating areas or play areas for kids without the risk of burning family members, guests, or customers.
Different Types of Pathway Lighting
You can choose from several different types of pathway lighting to meet the style and aesthetic you are looking for. These include but are not limited to the following:
Garden Lights: Garden lights are generally topped with a canopy that helps them reflect the light down onto paths and garden beds. They stand between 18 and 24 inches tall.
Downlights: Downlights help focus light downwards towards a specific point on your pathway and can be installed on walls or trees. Downlights help create a targeted light source with little to no glare. The farther the light is installed from the path, the larger the illumination area.
Bollard Lights: Bollard lights are also known as pillar lights and create a 360-degree light spread which is useful for illuminating both garden beds and walkways simultaneously. These light sources are known for their brightness, which is why many home and business owners use them at the start or end of their paths. This allows the light to act as a focal point, giving guests a sense of direction as they walk through the garden.
Flush Lights: Flush lights are installed directly on the surface of a path to help the lights illuminate upwards.
Accent Lighting: Accent lighting is designed to bring the eye towards specific pieces in your outdoor living space. These pieces can be architectural features such as gorgeous brickwork on your house and landscape features such as special plants or fountains. Accent lighting is a way to create a dramatic effect, showcasing the parts of the home you love, and creating an outdoor living space of which you are proud.
Types of Outdoor Accent Lighting
Unique Outdoor Illumination & Mosquito Pros proudly offers high-quality outdoor accent lighting fixtures. Here are some of the options that our team offers:
Wall Sconces
Recessed Lighting
Spotlights
LED Puck Lights or Track Lighting
Dimmable Accent Lighting
Accent Backlighting and Uplighting
Outdoor Accent Lighting
Landscape Lighting
Need Help Creating The Perfect Path Lighting?
Whether a business owner or a homeowner, gorgeous pathway lighting is a must for the safety of your family, employees, or guests. When installing the perfect pathway lighting for your building's needs, no one does it better than the Unique Outdoor Illumination & Mosquito Pros team. We take the time to talk with you about your lighting needs and wants and then create the perfect design to make your vision a reality. Contact our team today for more information or to schedule an appointment with our design team!