Synthetic Turf Installation and Maintenance
---
Looking for a sustainable and versatile solution for your home or business's landscape needs? Consider the functional and beautiful properties of synthetic turf. Unique Outdoor can help you install and maintain your synthetic turf so your business or family can focus on what is most important to you, and not the health of your yard. We offer landscape synthetic turf, pet turf, putting, and chipping greens.
CHOOSING THE RIGHT SYNTHETIC TURF
---
Synthetic Grass
If you have children or your business is constantly fighting the battle of foot-traffic on your yard, synthetic turf is an innovative solution. Not only does synthetic grass continuously hold its luscious emerald green color, but it also is safe for both children and pets to play on.
Pet Turf
Pet turf is an attractive solution that is cost-effective, low-maintenance, and durable enough to handle your pet's daily routine of playing, digging, and relieving itself. The best part is, your four-legged friend will fall in love with our pet turf as it is soft on the paws and doesn't trap heat, keeping them nice and cool during a busy day of play.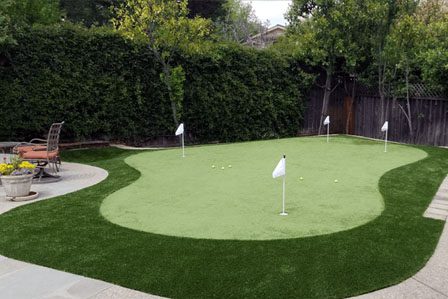 Putting & Chipping Greens
The most important factor when installing putting and chipping greens is design. We take into consideration drainage, the proximity of the greens to your home or office, and the shape and design that best fits your land.
HIGH-QUALITY ASTROTURF AND AN UNPARALLELED INSTALLATION TEAM
---
If you are ready to transform your outdoor landscape with the beautiful aesthetic and easy maintenance of synthetic turf, then contact Unique Outdoor today! Our team can help create the perfect outdoor landscape and turf to meet your needs. Protect your lawn from pets and design the perfect recreational center for kids — our synthetic turf is for you. Contact our team today for more information or an estimate!
TESTIMONIALS
---
Average Rating:
4.9 Stars

176 reviews
Service Rep makes all the difference! Also, communication via text & email confirming visits is a big plus
Mike W.
They did a great job. They explained what they were going to do and then did it. It took 1/2 day to install and very little prep work on my side..
James H.
I am a long term customer. They do what they say and do it well.
Medhavi J.
Excellent product. Excellent follow-up.

Shawn D.