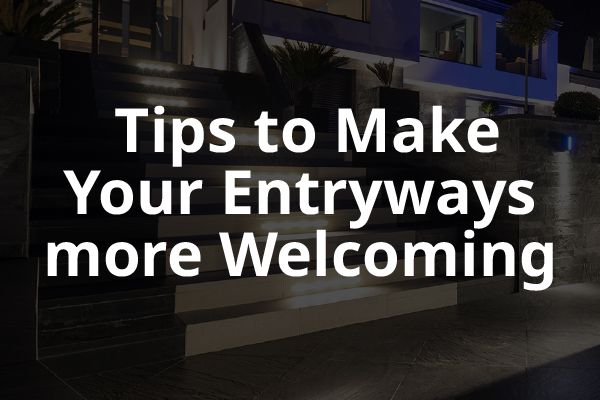 There are several benefits to having lit homes in a populous and vibrant city like Houston. Entryways should be welcoming and invoke a feeling of warmth for guests who arrive after dusk.
Lights serve as a guide for your visitors and occupants to the doorway and can help prevent tripping over driveway edging or stepping into flower beds. Other benefits include added safety and security as well as increased aesthetic beauty and curb appeal. Let's explore ways to illuminate your entryway with outdoor lighting in Houston.
Taking the Architectural Build of Your Entryway Into Consideration When Choosing Porch Lighting
Not all entryways are the same, so taking the architectural style and design of your home is important when choosing outdoor entryway lighting for the area. After all, this is one of the first impressions that guests will get of your home, so you'll want lighting fixtures that compliment your entryway.
For a small front stoop, a simple downlight might be all that is needed. Downlighting is an excellent way to provide adequate light for the entryway and show off the facade of the home's lower floor. These lights also don't pose the risk of shining in the windows of your home or neighbors, which can be a nuisance.
For a larger porch, you might consider using several smaller patio lights to help create an attractive layer of light near the doorway. These can be placed around stairs, decks, railings, or along the home's siding near focal points of the architecture. Pathway lights leading up to your porch can help prevent guests from tripping on any inclines while enhancing outdoor landscaping.
What Types of Porch Light Fixtures Are There?
There are quite a few choices that homeowners have for lighting up porches and entryways. Our outdoor lighting pros have a few suggestions that are popular and suitable for most Houston area homes.
Hanging pendant lights come in various styles and sizes, making them a solid choice that can complement any architectural style. These should hang from the porch with a minimum of seven feet clearance to avoid bumping their head. Most come in adjustable heights, and some are combinations of multiple lights to establish an interesting silhouette.
Flush and semi-flush ceiling lights are other nice options to consider. Flush-mounted lights sit directly upon the ceiling and offer a broader expanse of illumination. Semi-flush lighting hangs down for a few inches and leaves an airspace between the fixture and the ceiling. These are similar to pendants, but they tend to have a fixed stem versus a flexible one.
Recessed lighting sinks into the ceiling of the entryway awning or roof eave. These types of lights keep the emphasis on the entryway rather than other features. The most important part of choosing an outdoor light fixture—regardless of style—is ensuring they are resistant to the elements.
Tips for Choosing Outdoor Wall Light Fixtures
Lights affixed directly to the siding of entryways are one of the most popular types of wall lighting. The most classic choice is sconce-style lights that have been used for centuries. Wall lanterns are available in a variety of shapes, sizes, and finishes, which makes it easy to find wall lights to complement the exterior decor.
Smaller stoops are ideal for flush-mounted sconces that are mounted level with the wall. This positioning lets them bring forth maximum light while taking up little space. Semi-flush light fixtures are another compact option that is ideal for tight spaces. These lights extend just a bit from the wall to put out light that offers a sense of dimension.
Sconce lights are a popular style for large porches, and they add a touch of glamor and whimsy to the entryway. Combine these with ceiling lights to create a multi-faceted effect that minimizes shadows.
Spotlights are another good choice to showcase entryways, and are one of the top picks for homeowners looking to boost security. For wall-mounted designs, the center of the lights should be mounted so that the center of the lamp is at least 66 inches above the ground.
What Color Temperature of Porch Light Should I Use for My Entryway?
You might have heard that colors can evoke different moods; lighting can work the same way. In the world of lightbulbs, there are light temperatures. These are categorized into three types of lighting: bright light, white light, and soft light. Some hues fall between the primary labels on the spectrum.
Color temperature is not a term that indicates lamp heat, but rather it represents what the feeling and appearance of light will ultimately be about its correlated color temperature and how that replicates the Kelvin temperature when heated.
Cool lighting can give off a sterile vibe. The scale starts with bright lights often used in sterile environments like hospitals and grocery stores. They are not meant to feel inviting but are better for additional security.
Warmer light that has a yellow or orangish glow gives off a calming and nurturing feeling that offers a pleasant experience for guests. This type of outdoor entryway lighting tends to ease the transition from the entryway to the interiors, which are likely to have warmer lighting in place, as well.
Case in point, lower your color temperature for a warmer light. Experts advise using the principle that the higher the temperature, the cooler the color. Hence, a 5500K hospital-grade bulb will be cooler than a 2700K bulb.
Need Help Creating the Perfect Entryway Lighting?
Here at Unique Illumination & Mosquito Pros, we have a team of design pros who specialize in outdoor lighting installation. We'll listen to your vision and evaluate your landscaping to help you choose the perfect lights for your entryway and outdoor space. Contact us online or call us to schedule an appointment!